All-time lows for PC and Smartphone sales
This is probably good news for the planet and the climate emergency, but less good news for manufacturers. Sales of computers and smartphones in 2022 have been very bad…
-16% for Canalys … -17% for IDC … -16.2% for Gartner … -15% for CounterPoint Research … Once analysts agree on the importance of the PC market decline in 2022. A mistake in the record year 2021 distorts perception. Blame it on a very poor fourth quarter and showing record decline -29% despite the holiday season!
" Anticipation of a global recession, rising inflation and rising interest rates have had a major impact on PC demand. Mikako Kitagawa, analyst director at Gartner, explains. " Since many consumers already own relatively new computers purchased during the pandemic, the lack of affordability outweighs any motivation to purchase. causing consumer PC demand to fall to its lowest level in years. As for the business computer market, the economic slowdown is also affecting it. Demand for PCs among enterprises began to decline in Q3 2022, but the market has now moved from "soft" to "disruptive." Business buyers extend the life of personal computers and delay their purchase, ie the enterprise market is unlikely to return to growth before 2024. »
Jitesh Ubrani, research director for mobility and consumer device trackers at IDC, also explains, " Average selling prices for many channels have also fallen as excess channel inventory has led to discounts in recent months to stimulate demand. But despite these effortsPC and component inventory management will remain a key issue in the coming quarters and has the potential to further influence sales prices. »
For Ishan Dutt, senior analyst at Canalys, " 2022 has been a tough year for the global PC market. The decline is all the more surprising since the corresponding period of 2021 saw record shipments of laptops and desktops.. With energy and commodity prices rising in key markets such as the US and Europe, spending on big-ticket items such as PCs has taken a back seat as consumers are willing to put off upgrades. At the same time, public and private sector budgets have been tightened amid rising interest rates, slowing hiring and expectations of a recession early in the year. A December 2022 survey of nearly 250 channel partners showed this 60% expect computer business revenues to remain flat or decline in 2023. This difficult environment for the PC industry is expected to continue until the second half of this year. »
PC sales aren't that disastrous
However, as Ryan Reith, vice president of IDC's Worldwide Mobility and Consumer Device Trackers group, points out, we should still be wary of jumping to conclusions. " Of course, consecutive quarters of decline paint a decidedly bleak picture for the PC market, but it's really a matter of perception. 2021 has been close to historical levels for PC shipments, so any comparison must be skewed. There's no doubt that the ups and downs of the PC market will go down in history, but there's still plenty of opportunity. We believe the market can recover in 2024 and see pockets of opportunity in the remainder of 2023. »
What do manufacturers need to assure? Not so sure. Because the economic crisis ultimately helps to reinforce the implantation in the collective unconscious of the eco-responsible messages that proliferate among both companies and individuals. " You should keep your equipment longer "…" Preference should be given to the second-hand and refurbished equipment market "…" Digital must be more responsible and cost-effective »… These messages are best heard when the wallet is hurting.
The fact is that in reality – and contrary to what the numbers might lead you to believe – PC sales remain very high. with 292 million units According to IDC, it was sold during the year. volumes remain higher than before the pandemic. The PC market had been in decline for over a decade.
As always, there's some variation in units sold among analysts, not all of which count the same machines (some don't include Surface, iPad Pro, or Chromebooks). Thus, according to Gartner, 286 million personal computers were sold in 2022. Canalys for its part sold 285 million cars during the year.
A slightly faded PC podium
Despite these differences, different analysts confirm the podium of the same manufacturers. Lenovo ranks first worldwide (with 23% to 24% of the market) ranks second HP (between 19%-20% of the market), Dell Technologies (between 16.5% and 17%), ofapple (9.8% and 11% of the market),Asus (7.4%) andAcer (5.5%).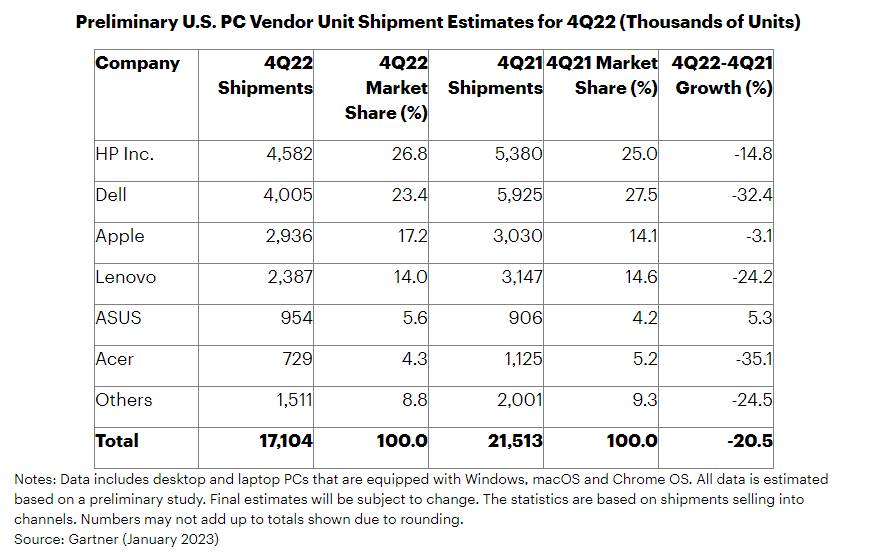 Whatever the analysts, Apple is the least affected by the situation created by the new Mac in the M1 and M2 processors. IDC sees Apple hardware sales growing by 2.5% in 2022, while Gartner estimates a 10.2% decline and Canalys estimates a 7.5% decline.
On the other hand, Dell and Acer are the two most affected players in 2022 with "-37%" for Dell and "-41%" for Acer.
This, according to Tom's Guide, partly explains why Dell has decided to focus on online sales from its own network and website, ditching resellers like Fnac, Auchan or even Amazon!
As can be seen from the quotes at the beginning of the article, the situation will not improve significantly in 2023. Thus, Gartner predicts a 6.8% decline in sales in 2023.
---
It doesn't get any better on smartphones!
according to IDCsmartphone sales experienced their steepest quarterly decline in the fourth quarter of 2022. 18.3% decline in sales Compared to the same quarter of 2021! In 2022, the smartphone market will shrink by 11.3%.
Chinese manufacturers have the most influence. Samsung and Apple they managed to maintain their sales and only registered a year-on-year decline 4%where there Xiaomi, Oppo and Vivo average record a decrease of about 20% in sales.
Gartner, which estimates smartphone sales to decline by around 11% in 2022, does not expect a significant improvement in 2023. The analyst expects sales to decline by about 4%.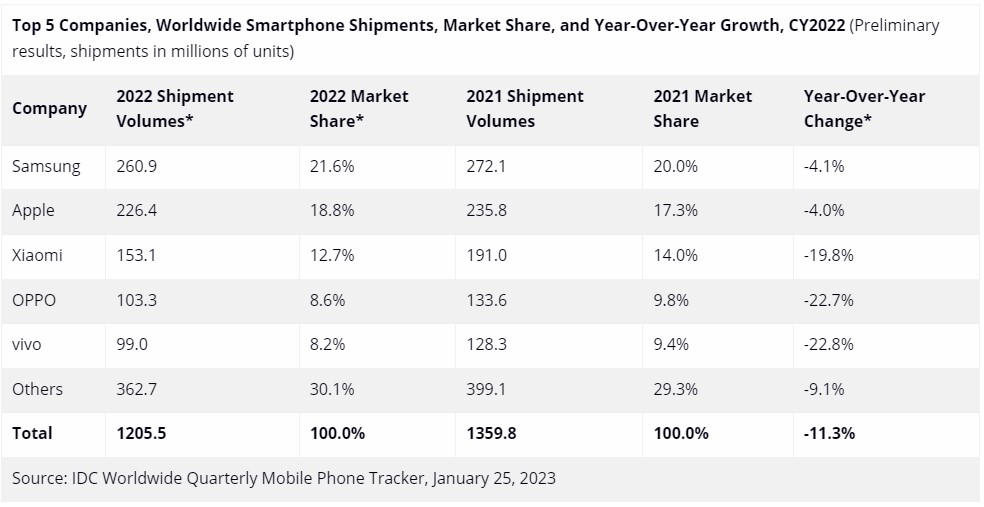 According to Gartner, 1.28 billion smartphones will be sold in the world in 2022. Consumers are keeping their phones longer than expected, six to nine months, and are switching from fixed contracts to flexible contracts in the absence of significant new technology. Gartner CEO analyst Ranjit Atwal explains. When you know these numbers aren't enough to reassure the planet…
---