We Were Here Forever is available on Xbox and PlayStation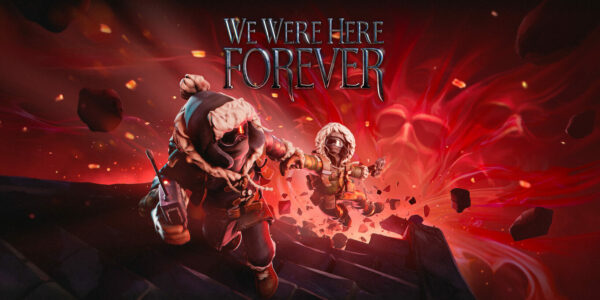 We've Been Here Forever
Starting today, the co-op puzzle adventure game We Were Here Forever is available on PlayStation 4 and 5, Xbox One and Xbox Series X|S. The console release comes with cross-play, making it the first game in the series that explorers can connect on their favorite platforms! Playing with others entering Cursed Castle Rock has never been easier.
We Were Here Forever is available now on PlayStation, Xbox, Steam and Epic Games for €17.99/$17.99, and with the release of the new cross-platform feature, players can experience this asymmetric puzzle game in co-op across all platforms!
The PC release of this award-winning co-op adventure was met with overwhelmingly positive press and public reception, breaking all studio sales records. With a highly favorable score of 91% from over 7,300 reviews on Steam, We Were Here Forever proved the value of its unique co-op game concept. In addition, it was one of the best Steam releases of May 2022 and received several awards and nominations, including the prestigious Dutch Game Awards Best Game Design award and a TIGA nomination for Best Puzzle Game.
With the release of We Were Here Forever today on PlayStation 4 and 5, Xbox One and Xbox Series X|S, fans of the series can immerse themselves in this new standalone game in the console adventure game series. . Moreover, this latest installment also brings a new feature to the series: players can explore the game together regardless of their platform and unlock the mystery of Castle Rocks, as it brings cross-platform functionality with its release. Connecting with other players and making lifelong friendships has never been easier!
Marion Strumpel of Total Mayhem Games said: "We are very excited to finally bring the latest game in our series to consoles. And now, with the new cross-platform feature, even more new players can make (or destroy!) friendships in this adventure, regardless of their preferred platform! This is a great moment not only for our fans, but for us as well, and we plan to continue working on the series to make more memorable moments possible! »
It's time for the explorers to return to frozen Antarctica, the latest entry in the We We We Here series. After several highly acclaimed releases, fans of the series are immersed in a new adventure with new and improved visuals. At over 12 hours long, We Were Here Forever delivers a thrilling continuation of the story and is the longest game in the series to date! Players unfamiliar with the series needn't worry: this game can certainly be enjoyed as a standalone experience.
The lost explorers of previous games will once again find themselves isolated in the dungeons of Castle Rock, armed only with their trusty walkie-talkies, the only link between themselves and their partners. Together, they must fight their way through and beyond this magical and evil realm. Thanks to the new, freer design of the puzzles and environment, this adventure will play out differently for each pair of explorers.
In We Were Here Forever, players will discover part of Rockbury's mysterious history. Long ago, this city and its people tried to rise up against a corrupt king to escape this magical realm that exists outside of time and space. As you unravel the past, you may begin to ask yourself: Can we ever…really…escape Castle Rock?
We Were Here Forever is available now on PlayStation, Xbox, Steam and Epic Games!
SOURCE: PRESS RELEASE – Total Mayhem Games