PowerWash Simulator: List of ultimate cleaning trophies on PS5 and PS4
news tip PowerWash Simulator: List of ultimate cleaning trophies on PS5 and PS4
Guillaume Leviach aka "Antistar" – Journalist
Passionate since 1992 and the discovery of Super Mario, where he grew up, Antistar has always had a special love for Nintendo licenses, with Zelda at the top of the list, but also Donkey Kong, Metroid, Pokémon or Kirby. If you need an expert from this historic builder, he will!
Are you missing out on "satisfying" games that make you have a good time and feel useful while avoiding the minimum? PowerWash Simulator might be the title you're looking for. On the occasion of its arrival on PlayStation consoles, we invite you to discover its list of trophies.
We didn't really see it coming, but the amazing PowerWash Simulator recently created a minor sensation among PC gamers, and on the strength of its minor success, now it's coming to other platforms, including the PlayStation 4 and PlayStation 5 we're interested in. Indeed, this technical agent simulation game (sells dreams, right?) is published by Square-Enix has just released its list of trophies, so we invite you to explore if you want to combine your business with pleasure. Complete list of PS4 and PS5 trophies from the game FutureLab all included 41 cups distributed as follows: 30 bronze, 5 gold, 5 silver and of course platinum trophies to proudly display in your collection!
Summary
Bronze Trophies (30)

Cleaning specialist

Well equipped

City specialist

At the forefront of fashion

First steps

Stego-goal!

Alley Cat

highway

Wedge six

In watermelon

I see more clearly

Perfect balance

lantern hunter

There is a "faded" fire in the lake

Don't be a dwarf

Postpone the deadline

Light on all floors

Suspicious changes

A tire, very, passionately

Friends for life

Guaranteed nostalgia

No commercial container

Careful digging

All over the bridge

Turn them all upside down

Stardust

rising star

In return

At the price of gold

specialist

Silver Cups (5)

Cleaning heavy weight

High pressure cleaner

Scaffold cleaner

Three small turns, then away

Shooting star

Gold Cups (5)

Thorough cleaning

As the forecast says…

Super star

Everything comes in time

The money is rolling

Platinum Trophy (1)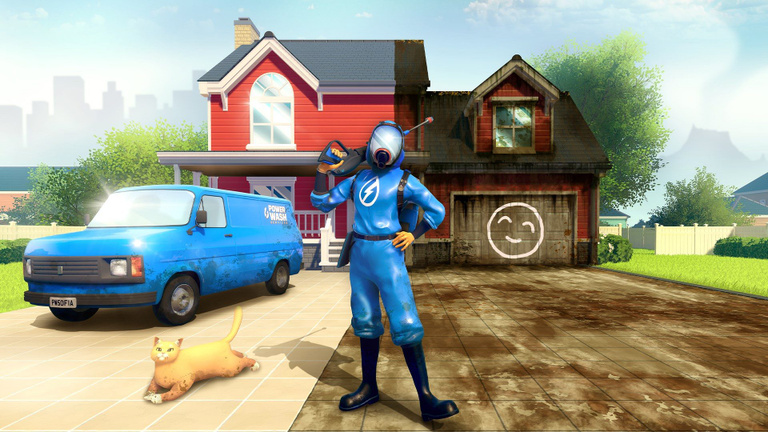 Bronze Trophies (30)
Cleaning specialist

Get all cleaning fluids at once
Well equipped

Own Prime Vista 1500 and its three extensions
City specialist

Own the UrbanX U2 and its four expansions
At the forefront of fashion

Equip it with a new outfit, new gloves, and a cleaner mod at the same time
First steps

Complete the 12 Japanese steps first in the garden
Stego-goal!

On the playing field, roll the soccer ball over the stegobogga's head
Alley Cat

Finish bungalow gutters last
highway

On a detached house, complete the driveway, driveway and curbs first
Wedge six

Finish the bottom of the shoe-shaped hutch last
In watermelon

Take the ball out of the bowl at the skate park
I see more clearly

First, finish the fire truck's windows, windshield, and side mirrors
Perfect balance

Stand on the big-bi for 10 seconds
lantern hunter

Finish all the lanterns in the treehouse first
There is a "faded" fire in the lake

Complete the water bomber chopper blades first
Don't be a dwarf

In the temple, make sure the dwarf is on the roof of the tower when you're done
Postpone the deadline

In the toilet, finish the toilet last
Light on all floors

Finish the objects with bubbles first of all on the slide
Suspicious changes

First, finish the laser and anti-gravity parts of the private jet
A tire, very, passionately

Finish the monster truck tires first
Friends for life

Take a ride on the ferris wheel with a dwarf
Guaranteed nostalgia

Complete the billboards on the subway platform first
No commercial container

Beat the four buckets at the Ancient Statue
Careful digging

Clear the ancient monument completely using only the white nose
All over the bridge

First, complete the bow, steps and main deck of the fishing boat
Turn them all upside down

Pour all the coconuts in the carnival
Stardust

Earn 5 stars in career mode
rising star

Earn 50 stars in career mode
In return

First finish the drill hole and bit
At the price of gold

Win a gold medal in challenge mode
specialist

Complete a special mission
Silver Cups (5)
Cleaning heavy weight

Own Prime Vista 3000 and its five extensions
High pressure cleaner

Thoroughly clean the van using only the red nozzle
Scaffold cleaner

Clear the fire station completely without stepping on the scaffolding
Three small turns, then away

Clear the carousel completely without stopping
Shooting star

Earn 100 stars in career mode
Gold Cups (5)
Thorough cleaning

Get Prime Vista PRO and its six extensions
As the forecast says…

Full career mode
Super star

Earn 150 stars in career mode
Everything comes in time

Clear 95% of any mission without completing a single task
The money is rolling

Earn five gold medals in challenge mode
Platinum Trophy (1)
Without pressure

Get all trophies