HP 14, HP 14 Eco Edition and HP 15.6: affordable laptops for everyone
HP took advantage of the CES exhibition in Las Vegas at the beginning of the year to present its new laptops that will revive the year 2023. Among these, we find low-cost consumer models that allow you to take advantage of the latest components at a low price. . This category includes the HP 14, HP 14 Eco Edition and HP 15.6, standard ultraportables that strike a great balance between comfort and compactness. Devices also available in several versions depending on the choice of processor. In total, there will be a choice between 5 different models, each with arguments.
HP 14 AMD
The first of the 5 previously announced models is the HP 14 AMD. Its name already implies a good part of its technical sheet. It then has a 14-inch IPS screen in Full HD (1920 x 1080 pixels) or HD (1366 x 768 pixels) format with a classic 16:9 aspect ratio. There's also a touchscreen option for the HD version, and models can reach 250 nits or 400 nits of brightness.
Under the hood, of course, AMD offers a signature and mostly latest generation chip Ryzen 7000. There are several options available namely Ryzen 7 7730U, Ryzen 5 7530U, Ryzen 5 7520U and Ryzen 3 7320U. There are also slightly older variants with the Athlon Gold 7220U or Athlon Silver 7120U.
This laptop offers RAM ranging from 8-16 GB DDR4 or 4-16 GB LPDDR5. This is coupled with PCIe NVMe SSD storage with capacities ranging from 128GB to 1TB.
It also offers fairly average connectivity with a USB-C port, 2 USB-A ports, a mini-jack combo jack, and an HDMI 1.4 output. For the wireless part, there is Wi-Fi 6 and Bluetooth 5.3. The HP True Vision webcam in Full HD 1080p or HD 720p with an integrated microphone provides a great video conferencing experience. The set is equipped with a 41 Wh battery compatible with fast charging at 45 W or 65 W.
HP 14 Intel
The HP 14 Intel uses the same design lines as the AMD version. Thus, it retains the same dimensions at 17.9 mm thick with a total weight of 1.4 kg. Thanks to this, it should not be too noticeable in a bag or suitcase.
On the side of the screen we find more or less the same offers. However, this model has a Quad HD display (2560 x 1440 pixels) version with a brightness of 300 nits. Also, it doesn't offer any option with touchscreen.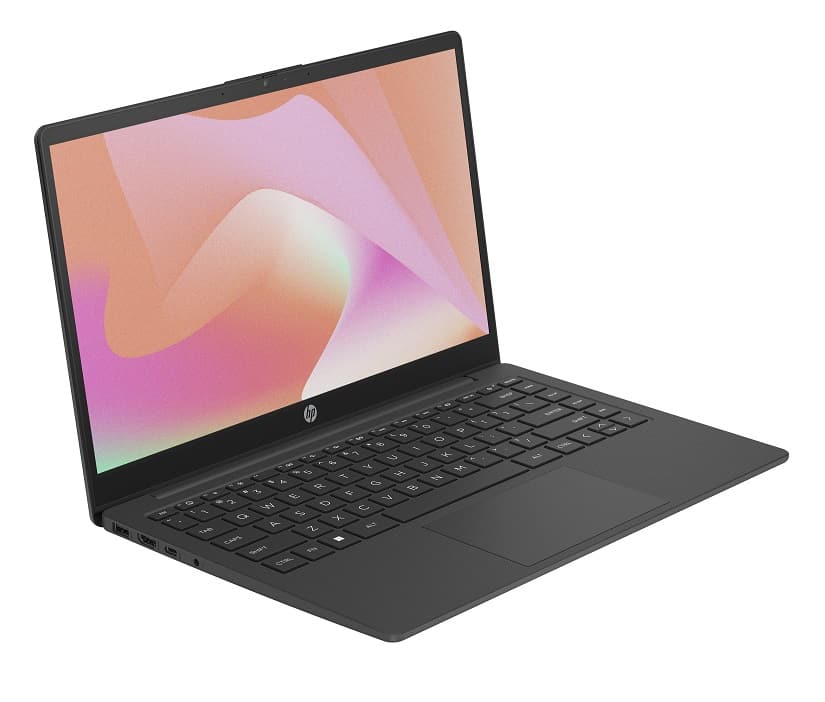 The main difference compared to the previous model is then inside. Indeed, it actually contains a processor Intel Raptor Lake 13th generation of P and U series. In particular, there is a choice between the Core i7-1360P, Core i5-1340P, Core i7-1355U, Core i5-1335U and Core i3-1315U. You can also choose processor models Alder Lake 12th generation including Core i3-N305, Intel N200 processor and N100 processor.
Here we keep the same amount of RAM, but there is no version with LPDDR5. That's why the 4GB version stays at DDR4. The storage also retains the same options, but this time we can get the 128GB UFS storage version.
HP 14 Eco Edition
The American manufacturer also offers a third version of the smallest model, the HP 14 Eco Edition. This is a model with the same appearance as the first two, but with an environmentally responsible profession.
The main difference is in the design, more precisely in the finishes. Here, HP advertises that the computer is made of at least 50% recycled materials. These include, in particular, the aluminum of the shell, as well as the plastic of the switches and other internal elements. It also uses waste oils and uses only water for the keyboard's base paints.
For the spec sheet, it captures most of what we've seen before on a model with Intel processors. However, there are no versions with HD screens, and even for the only Full HD option, the brightness does not exceed 250 nits. There are also no versions with UFS storage, and all have a 1080p webcam.
HP 15.6
In addition to these three 14-inch models, there are also larger versions: the HP 15.6. They then differ mainly in size with a thickness of 18.6 mm and a weight of up to 1.6 kg. This is mainly due to the larger screen with a diagonal of 15.6 inches. Thus, it offers better usability in exchange for a clearer size. We find the same screen qualities, except for the QHD model.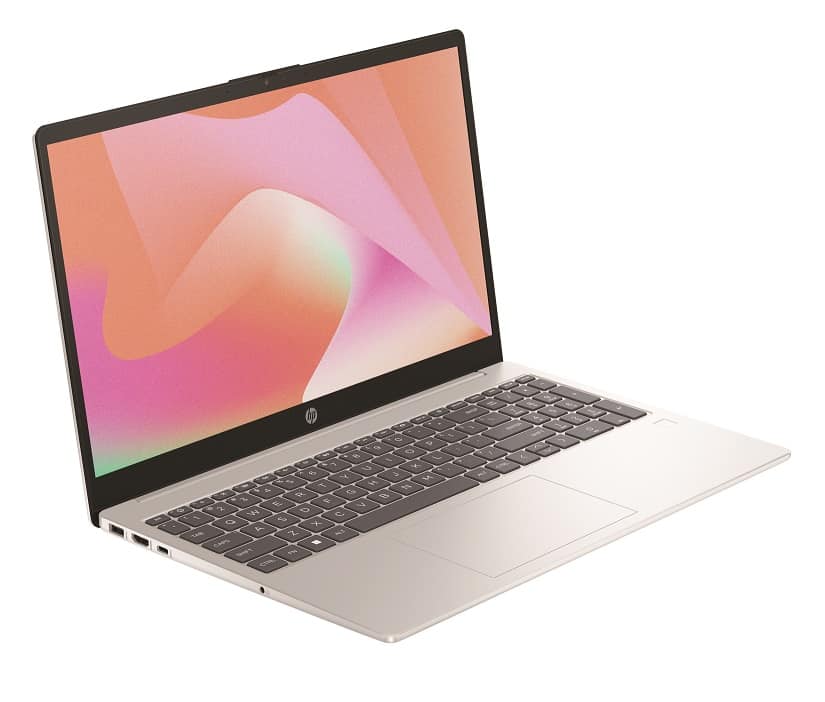 It is also available on HP 15.6 AMD and HP 15.6 Intel. However, there is no Eco model yet. Current models use the same processor and memory options. However, there is a difference in the graphical part. Indeed, the Intel model may have a dedicated Nvidia GeForce MX550 graphics card, where the 14-inch models are limited to integrated Intel Iris Xe or Ultra HD Graphics GPUs. The AMD version still makes do with an integrated AMD Radeon Graphics graphics processor.
Price and availability of HP 14, HP 14 Eco and HP 15
New HP laptops will arrive at different times and at more or less different prices:
HP 14 AMD: March 23, 2023, from €449
HP 14 Intel: May 3, 2023, from €299
HP 15.6 AMD: March 13, 2023, from €449
HP 15.6 Intel: May 10, 2023, from €299.
Meanwhile, the HP 14 Eco Edition should land in the spring without a specific date or price.