DualSense Edge PS5: What is Sony's new ultimate controller worth?
Focuses on the sensory experiences and feelings of the players, controller in hand, DualSense Edge It appears to be a direct sequel to its older sibling, which was released 2 years ago at the same time as the Playstation 5. Sony has announced its release. this new "pro" controller for 26 January 2023 for €239.99.
Bright and already well-known design
At first glance, you immediately recognize the Playstation 5's standard DualSense. The DualSense Edge model takes all the features and curves of its big sister while adding more character.
Where the standard DualSense relies on white is mostly present on the buttons, shell and center pad. The DualSense Edge, for its part, cuts this monochrome aspect with black it takes up more space, especially on the buttons and center pad. Let's talk about precisely modified black it changes from a matte look to a lacquered look This can be divisive among consumers, as lacquered paint brings more shine and "maintenance" concerns (e.g. fingerprints).
In terms of proportions, the two controllers are almost identical, with the buttons, triggers and analog sticks in the same places, which will allow Playstation 5 gamers to stay in place! The differences are mostly obvious in terms of weight, because yes the DualSense Edge is slightly heavier for a similar size (280g vs 330g).. The weight is explained by the addition of additional buttons below the analog sticks, toggle buttons on the back of the controller, and a slightly firmer center pad.
Contents of the DualsSense Edge box
The DualSense Edge is sold in the most beautiful white box with a number of accessories, the contents of which we have summarized for you below: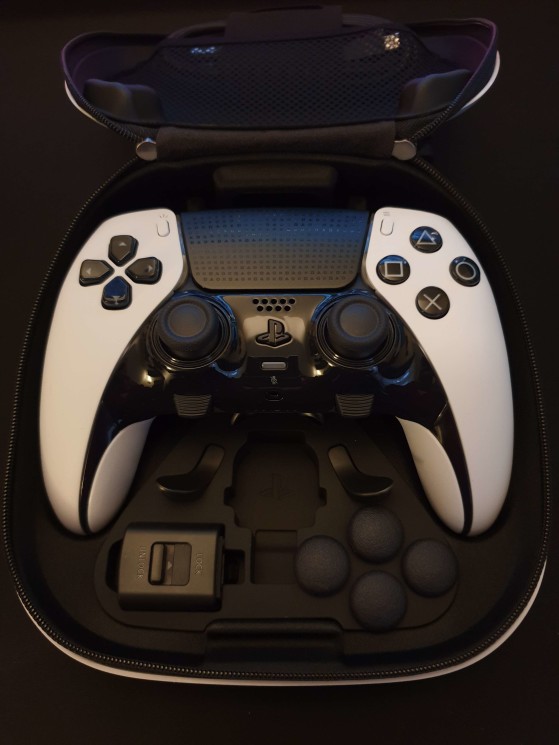 Sturdy storage case for controller + accessories

DualSense Edge wireless controller

Braided USB cable

2 standard joystick caps attached to the joystick

2 tall domed joystick caps

2 low dome joystick caps

2 key rear lever

2 rear half dome switches

Box for connector

A textbook
Ultra customizable features
What is the interest of gamers in switching from classic DualSense to DualSense Edge? This is a new controller focuses on customization and configuration tailored to each individual. To begin with, we assure you that all the immersive and wireless features of DualSense are available in the "pro" model, ie adaptive triggers, haptic feedback, in-pad microphone and motion controls.
DualSense Edge stands out with its customizable controlsJoysticks can be changed, buttons can be configured as you like and parameters are adjusted down to the smallest detail. Sony's goal is for every gamer to have a "unique" controller configured to their own taste and preferences.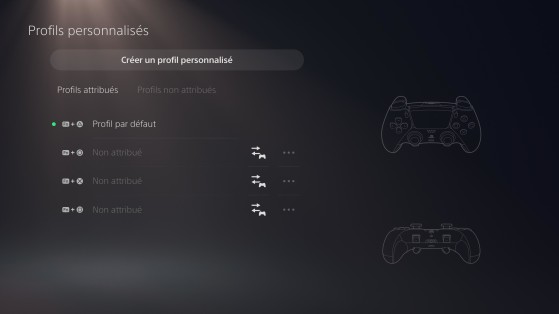 All these configurations will be of particular interest to players looking for a unique experience for each game type. it will be possible to create several individual profiles where each key can be changed, very interesting for fighting games. The analog sticks can be changed for motion sensitivity, which will be perfect for FPS type games. Even the amplitude of the triggers can be adjusted thanks to the small sliders to choose their resistance, so that it can trigger faster or not according to the needs of the game. uses… Being able to adjust them without having to go through the PS5 menu is a really good plus.
Through the menu, you will get access to changing profiles in the settings of the console "Accessory > DualSense Edge Controller > Custom Profiles". You will then be able to configure several different profiles for your controller that will be available directly in-game. via two small "Fn" triggers located below each analog stick.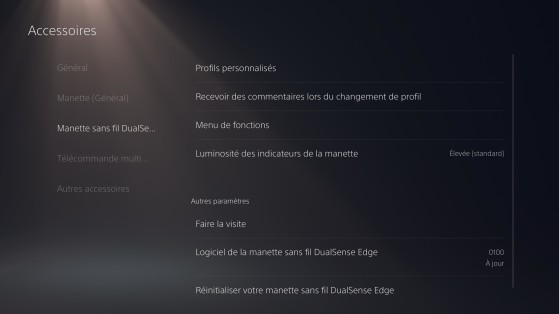 But that's not all since the joystick The DualSense Edge has additional switchable back buttons called R[B] and L[B] which is not available in the classic DualSense. Adding these buttons will allow you to configure any combination of buttons and always have them at your fingertips while playing games.
Finally, to round out the feature additions for this new controller, Sony is introducing replaceable joystick modules so you can play with your controller for longer without ending up with faulty or worn out joysticks.
Who is DualSense edge for?
Sony's new controller isn't for everyone. In effect, apart from the variety of features it offers, the price will not be within the reach of all budgets it is clear. Therefore, it is important to fully understand the benefits of such an accessory before purchasing it. The DualSense Edge will almost certainly find it above all, an audience looking for the optimization of the gaming experience through all the configuration possibilities and the settings it offers. We're thinking of players who compete directly in esports and would have a logical interest in this controller. Great flexibility in key assignment and control customization will give competitive gamers complete control over their controller and how they play. We can legitimately ask ourselves the question of whether the general public would be interested in acquiring such a controller, despite all its qualities, because the reality is that it is superior to the classic DualSense without any flaws.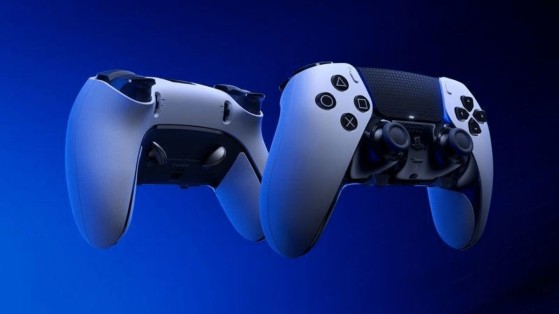 This is the only point we can look at DualSense Edge controller weighs more than a classic controller and battery life in wireless mode is slightly less than DualSense. We'd like the DualSense Edge to have at least the same autonomy as the PS5's main controller, or a bit more for the price.
In conclusion, the DualSense Edge is the perfect accessory for the experienced gamer who wants to adapt their controller to any type of game or compete in esports. It will combine the desires of users who know what they want in an amazing way seeking the ultimate experience in every game. More casual gamers may be interested in the practicality and accessibility of the "a la carte" configuration, but won't find a more immersive experience compared to the classic DualSense. Especially the overly advanced aspect of the setup can put off those who just want to turn on their console, plug in a controller, start a game and play! You can easily call an accessory to take the DualSense Edge to the next level if you want to play all the games in our library in a more replayable and more optimized way!
Smartly added additional buttons

Ultra thin key customization

Stylish design and not flashy

Spare joysticks in case of wear

May not fit all budgets…

Autonomy in wireless is a little weak

DualSense-like in-game immersion