Is USB-C technology enough to ensure charging compatibility between devices? DXOMARK metrics and analysis of the current state of the mobile market.
DXOMARK, the international leader in camera, screen, audio and battery performance evaluation of smartphones and other electronic devices, has conducted numerous tests on various chargers following the adoption of new EU charging legislation by the European Commission. and smartphones to assess their compatibility.
Late last year, the European Parliament passed a proposal to introduce a single charging port for all new smartphones and tablets sold in Europe, to reduce emissions and the carbon footprint of electronic products in the Union. By autumn 2024, all new smartphones, tablets, cameras and other electronic devices launched in the EU must be equipped with a USB-C charging port. Coupled with the tendency of certain manufacturers to remove chargers from smartphone boxes, the regulation will see more users mixing up chargers and smartphones. To understand what this means in terms of compatibility, DXOMARK conducted several tests and comparisons, combining official and compatible chargers..
DXOMARK Cross Load Tests
DXOMARK battery quality engineers conducted extensive cross-charge testing on the following devices: Apple iPhone 13, Xiaomi 12 Pro, Samsung Galaxy S22 Ultra, Oppo Find X5, and Google Pixel 6. For this first round of testing, DXOMARK provided charge time and power measurements.
To get accurate results, all phones tested were charged with the original charger (or recommended by the brand), competitors' phone chargers, as well as popular third-party chargers (Amazon Basics, Force Power, Belkin and Anker).
You can see the full analysis on the DXOMARK website
Countless smartphones for multiple charging protocols?
After the arrival of Qualcomm Quick Charge technologies and the USB PowerDelivery standard a few years ago, many manufacturers, for example OnePlus, offer faster special charging protocols up to 150 W. Each of these charging protocols requires the use of a specific charger and compatible cable, creating a complex system where consumers must clearly determine which device is compatible with the chargers they own.
This trend is picked up by most smartphone brands that create their own fast charging protocols available only in their latest flagships. So, Realme, Oppo and OnePlus use SUPERVOOC, Huawei works with Super Charge, and Vivo and IQOO work with FlashCharge. The number of charging protocols has therefore increased in recent years in the number of chargers and cables in the hands of consumers. If we take into account chargers for tablets or laptops, the number increases even more.
In order to move in the direction of the new European legislation on the reduction of e-waste, some compatibility between brands and devices is necessary. However, the reality is more complex.
USB-C charging: a more complicated charging process than it seems
Although most devices currently available in the EU market are equipped with a USB-C port, the onboard charging protocols often differ between brands. Efficient charging of your phone depends not only on the charging port, but also on the technology incorporated into the charger (and cable).
DXOMARK testers were able to observe that the standard protocol was activated between incompatible devices and allowed 10 W of charging power. Charging is therefore possible, but at sub-optimal powers.
However, if a charger and smartphone share at least one common protocol, charging power can reach 30W. Better results, but much lower power than the proprietary technologies of Android smartphone brands, which increasingly regularly exceed 100 W.
What about third-party chargers?
Unfortunately, third-party chargers face the same problem of not having access to smartphone manufacturers' proprietary charging protocols. In other words, even if a smartphone achieves high charging capacity with official chargers, third-party chargers will in most cases have to fall back on standard charging standards such as USB PD 3.0, 2.0 or even 1.0, which have lower charging speeds. , as seen in the graph below.
The table presented here shows the power peaks recorded when various phones were charged first with third-party chargers, then with proprietary and competing brand chargers.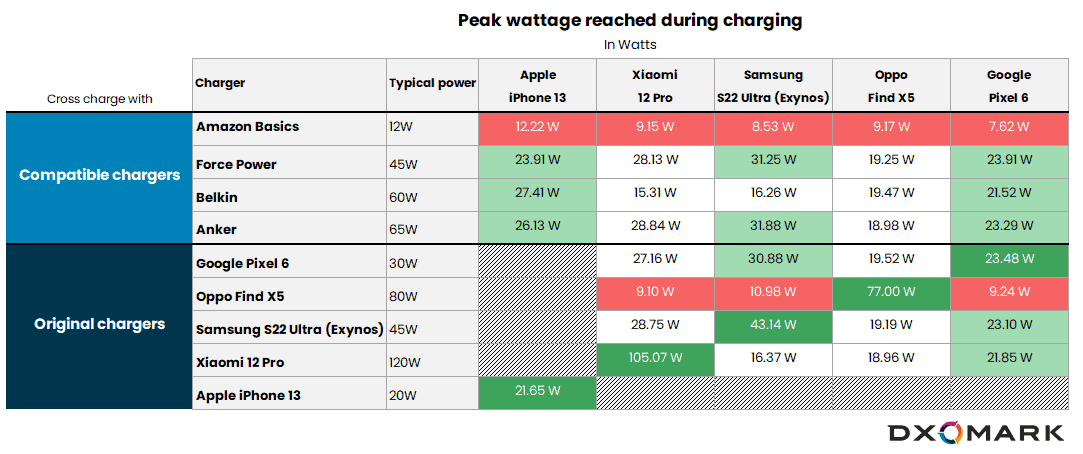 DXOMARK cross-load tests – peak wattage
For example, while USB PD 2.0 is well optimized for the iPhone 13, its use on most other devices results in significantly lower power compared to bundled chargers and their proprietary protocols. The performance of the Amazon Basics model, the cheapest charger in the group, was particularly disappointing on all phones tested.
A significant impact on the daily use of smartphones
Therefore, these power differences imply longer charge times for these devices compared to dedicated chargers. While the Oppo Find X5 only takes 45 minutes to fully charge, it will take almost 2 hours, more than double that of most chargers tested.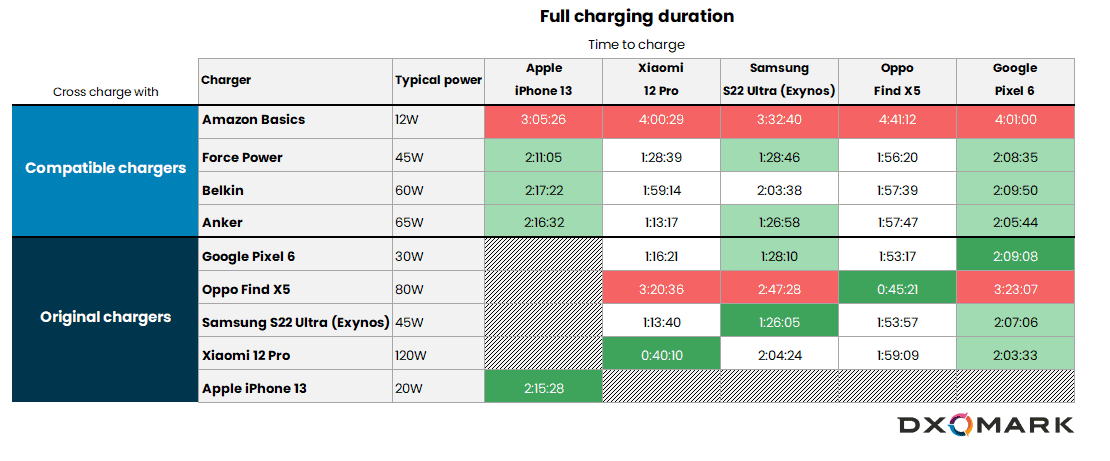 DXOMARK cross-charge tests – full charge time
A clear need to standardize charging protocols among manufacturers
While most smartphone manufacturers strive to improve the charging experience for their users, DXOMARK has observed during these tests that charging compatibility between brands is not consistent, resulting in the need to multiple chargers for the most convenient experience at this time.
In order to include as many devices as possible and reduce the number of chargers that consumers own, manufacturers of smartphones and other electronic devices will need to join forces and join forces to adapt truly uniform charging protocols for all brands. Along with this legislation, we are seeing new initiatives in other parts of the world. Indeed, in China, smartphone manufacturers Huawei, Oppo, Vivo and Xiaomi have announced that they are joining forces with the aim of creating a future common standard for fast charging.
DXOMARK is a French technology company, an international leader in the quality assessment of cameras, displays, audio and batteries for smartphones and other consumer electronics devices (such as cameras and connected speakers).
As a private and independent company, DXOMARK's mission is to help manufacturers develop increasingly high-quality products for the benefit of the end user.
To guide users in their choice, DXOMARK returns the largest database of quality evaluations – in the form of points – on its website – dxomark.fr, .com and .cn.
Based in Boulogne-Billancourt, DXOMARK employs 120 people, including a hundred engineers and technicians, who have conducted several thousand tests annually in 16 technological laboratories developed within the company for 10 years. More than 150 of these labs, 100% dedicated to quality measurement and optimization, have been sold to consumer electronics and technology companies worldwide.
DXOMARK activities for business
Consulting services to support manufacturers in improving the quality of their products in terms of camera, audio, display and battery from the design stage
Detailed test reports: DXOMARK manufacturers test a wide range of marketed products, with detailed results and measurements free to order.
Turnkey laboratories for use by Research and Development teams (Analyzer).
Today, there is no smartphone or consumer electronics manufacturer that does not subscribe to DXOMARK services.
DXOMARK also makes available to the general public at dxomark.com the results of quality tests conducted on smartphones, speakers and cameras on the market to help consumers choose the most quality-efficient devices.