Fortnite: January 18 update note, server status and connection issue
It was time! Fortnite hasn't received a real content update since the Christmas patch, and the start of 2023 has been a long one for our beloved Battle Royale. This Wednesday, January 18, 2023, Epic Games, however, filled the flagship game with new features. the scout hawk, a new item from Chapter 4 that was teased in the season's first trailer is finally showing up in the game! New passive buff buffs are also implemented.
Service completed
The maintenance required to implement patch 23.20 ended on Wednesday, January 18th at 11:00 AM. The game is therefore available after the installation is complete on your device.
Persistent connection errors appeared on Wednesday, January 18, however, Epic Games announced that it had resolved the technical issue at 3:30 p.m..
New item: Scout Falcon
Deploy the scout hawk and control it in the air, placing signals and markers on all enemies within a certain radius for your team. You can also use your scout hawk to open containers and collect loot. Carry the loot to yourself or a teammate and go hunting!
As you control the scout hawk, your camera follows it. It makes you vulnerable during this time, so if you're playing solo, take good cover before using it. Also be careful while flying because the hawk can be attacked by your opponents (it has its own HP bar). Since the scout falcon is remote-controlled, it has a maximum flight distance shown on the distance bar.
Scout Falcons can be found in Floor Loot, Chests, Knight Chests, and Supply Drops. You can use the same scout hawk as many times as you like in a game.
New passive reinforcements
Banana booty
You get a map that leads you to buried treasure.
vital pump
Shotguns absorb HP from opponents with each shot.
Common but dangerous
You get the leech effect on every kill with typical or atypical weapons.
zero chance
When you break an opponent's shield, you get zero points.
love of danger
You regain HP for a short time and move faster when your shield is broken.
Dynamic 3D resolution on PC
Added Dynamic 3D Resolution option for Fortnite on PC. You can access it in the Graphics quality section of Video settings when your display mode is set to DirectX 12. PC gamers can enable Dynamic 3D Resolution when the Antialiasing and Super-Resolution settings are set to one of the Temporary super-resolution options. Players must also enable Auto Quality Adjustment at least once.
Dynamic 3D Resolution allows game resolution to match performance to provide higher and more stable frame rates during changes in graphics card activity (which means increasing PC memory usage to accommodate higher resolution). Dynamic 3D Resolution is also available in Creator Islands and Save the World.
Various fixes
Fixed an issue where we were disabling Deku's strike in Battle Royale and Zero Build. Deku's Punch is reactivated in Battle Royale and Zero Build.

Fixed a climbing issue that sometimes caused players to cross the map.

Fixed an issue where sprint would sometimes be disabled during gameplay.

Reality Boosters can be unlocked again through teammates.

Players can once again consistently damage objects with their wands.

Players can now select reality augmenters while on a dirt bike.

Players can now use the Guardian Shield while on a dirt bike or on the back of a Bear vehicle.

Generic but Dangerous Reality Enhancement is not available in competitive game modes.

Recruited characters can now ride vehicles as passengers.
Don't forget to check out our current season overview for more Fortnite guides and news. You'll find tips for the hottest challenges of the moment, a list of seasonal updates, and news about your favorite Battle Royale.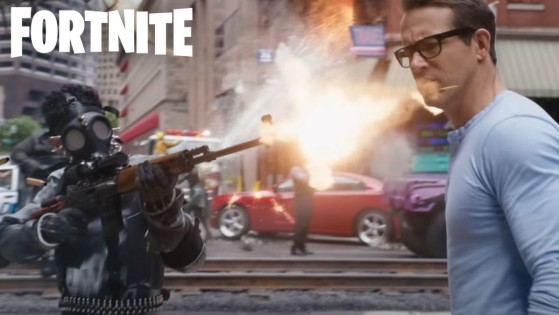 A movie full of Fortnite references is coming to Disney+
Fortnite Battle Royale has become a social phenomenon in most countries around the world as soon as it was released. Hollywood hasn't missed the boat either, as some recent movies have been clearly inspired by the game, and that's the case with the movie that just arrived on Disney+.