Latest LG OLED55B2 TV with HDMI 2.1 (4K@120 Hz) €550 cheaper for French Days
Planning to change your TV? We have what you need: the new LG OLED TV from the 55-inch B2 (2022) range, which offers a range of features, is now available for €939 instead of the usual €1,499.
Among LG's 2022 TVs, the A2 and B2 series are the cheapest after the A1 and B1. While both models feature a new processor, the B2 model is more interesting, especially for gamers, as it incorporates a frame-rate-optimized panel ideal for next-generation consoles. For those interested, the 55-inch reference benefits from a discount of more than €550 during French Days.
Advantages of LG OLEDB2 TV (2022)
High-quality 55-inch OLED panel (4K UHD)
HDR10, Dolby Vision IQ and Atmos ready
Game modes (VRR, ALLM, etc.) + HDMI 2.1 for 4K@120 Hz
WebOS: fluid and intuitive interface
Originally priced at €1,499, the 55-inch LG OLED55B2 2022 TV is now on sale at Cdiscount for €949 using promo code. 50DES499 ». CDAV members can get it for €10 cheaper with the code" 60DES499 CDAV ». There's also the slightly less efficient A2 model on sale at Rue du Commerce for €799.
Find the LG OLED55A2 on Rue du Commerce for €799
---
If the offer listed in this article is no longer available, please look below to find other offers for the LG OLED55B2. The table is updated automatically.
Where to buy

LG OLED55B2 at the best price?
There are currently no offers
Quality OLED TV
For the new B2 range, LG is not making any real changes compared to the previous range. The production quality is always there: the TV is almost based on the design borderless in order not to interfere with the image transmitted by the screen. Its 55-inch panel is a pleasure to look at, especially since it's an OLED that offers infinite contrasts, very deep blacks, and very good color calibration with a brightness peak of up to 600 nits.
The TV benefits from a native 4K UHD resolution (3,840 x 2,160 pixels) that offers excellent image resolution. One of the new features this year is that it benefits from an Alpha 7 Gen 5 processor (versus the Alpha 7 Gen 4 in the older model). VSe processor allows you to get a very detailed rendering, good adjustments in terms of images and sound. Moreover, this model conforms to the best video standards, ie HDR10 and Dolby Vision IQ for a movie-like experience. As for the sound part, it is provided by Dolby Atmos for a very impressive result.
Ideal for gamers
Along with movie buffs, LG wants to please gamers with the B2 series. For those with a new generation console, the LG B2 TV offers two HDMI 2.1 ports. Thanks to this, the TV can reproduce the performance of the Xbox Series X and PlayStation 5 consoles in an original way. You will be able to enjoy your games in 4K with a refresh rate of 120 frames per second. Thanks to ALLM mode, variable refresh rate (VRR) and the availability of G-Sync and AMD FreeSync technology, your game will be fluid with sharper images, without lag and screen tearing.
Smooth user experience
The operating system is WebOS, says LG, and it benefits from the latest version: webOS 22. This interface still offers intuitive and fluid navigation, but with some new features. The new Multi-view menu allows you to split the screen in two to see two different programs. It is now possible to create a profile so that your content is suggested based on what you are watching. Another function is dedicated to the family with an eye protection option for the little ones, a maximum volume limit, the ability to control usage times and a screen time report.
The latter allows you to display images in standby mode, play music when the TV is in standby mode. Of course, you can quickly access advanced programs such as Netflix, Disney +, Prime Video or YouTube. The TV is also compatible with various voice assistants on the market. Finally, it's also possible to stream content from your smartphone via Miracast or AirPlay 2.
Find the LG OLED55A2 on Rue du Commerce for €799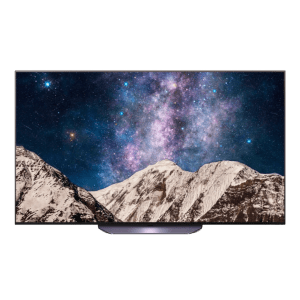 Don't miss any offer from French Days 2022
The back-to-school edition for French Days officially started in France on Friday, September 23, 2022 and ends next Monday. Several merchants have pulled their best promotions right now. Here are the suggestions we recommend at Frandroid.
To make sure you don't miss out on any good plan for this event, you should take some reflexes now so you don't miss any of the offers we recommend:
Follow us on our twitter account @FrandroidPromos dedicated only to good deals (don't forget to activate the call to receive real-time notifications)
Download our Frandroid app (available on iOS and Android) to activate notifications from the Bonus Plans category and thus receive new French Days articles in real time
Subscribe to our Good Deals newsletter (multiple emails per day, 1-click unsubscribe, distribution to third parties) to make sure you get the deals firsthand:
---
We invite you to download our Android and iOS apps to follow us. You can read our articles, files and watch our latest YouTube videos.