Dead Space Remake: Release date, pre-order, PC configuration, differences, gameplay… you know it all
2023 is off to a flying start with the first big game of the year, the Dead Space Remake. Released in 2008, the next generation remake of one of the best survival-horror films of all time, Dead Space, promises to be impressive and terrifying, without distorting the original and more realistic than ever. Date, trailer, PC configuration and other information, We've compiled a list of all the information you need to know to prepare for a perfect Motive Studio/EA license return.
Release date and game platforms
Dead Space Remake will be available On PlayStation 5, PC (Steam) and Xbox Series X/S starting January 27, 2023.
Pre-orders and various editions of Dead Space Remake
Like most AAA games, Dead Space Remake will be released with several editions:
Standard Edition, which includes the base game, for €59.99 on PC and €79.99 on PS5/Xbox Series X/S

Deluxe Edition containing: base game + 3 unique outfits (Infested, Lone Survivor, Venture) + 2 skins (Sanctified, Bloody), €69.99 on PC and €89.99 on PS5/Xbox Series X/S .

Collector's Edition containing: base game + physical version of the game + steel book + light-up and wearable Isaac Clarke oversized helmet + soundtrack on CD + lithograph of the base art and its foil + 4 mini-posters + Ishimura patch + 4″ replica of the Marker artifact + Marker Artifact Icon All for $274.99
This Collection Edition, on the other hand, is not unfortunately only available in the US through the Limited Run Games website. If you live there, do yourself a favor (or send one back to us) and expect postage and customs fees if you want it in France.
Pre-orders are available on all platforms:
game station

here you get -10% discount via EA Play

Xbox

here you get -10% discount via EA Play

Steam
Please note that for all PC orders through Steam, You will receive a free copy of Dead Space 2 Released on January 27, 2023. Sorry console gamers, unfortunately there is nothing in store for you.
PC / Console Requirements for Dead Space Remake
Minimum configuration
Operating system: Windows 10 64bit+

Processor: Ryzen 5 2600x, Core i5 8600

RAM: 16 GB

Graphics processor: AMD RX 5700, GTX 1070

DirectX: Version 12

Storage space: 50 GB free space
Recommended Installation
Operating system: Windows 10 64bit+

Processor: Ryzen 5 5600X, Core i5 11600K

RAM: 16 GB

Graphics processor: Radeon RX 6700 XT, Geforce RTX 2070

DirectX: Version 12

Storage space: 50 GB free space
PS5 and Xbox Series X/S players will be able to choose between two graphics modes:
Quality: 30 frames + ray tracing in 4K ultra high resolution

Performance: 60 fps in 2K (QHD) without ray tracing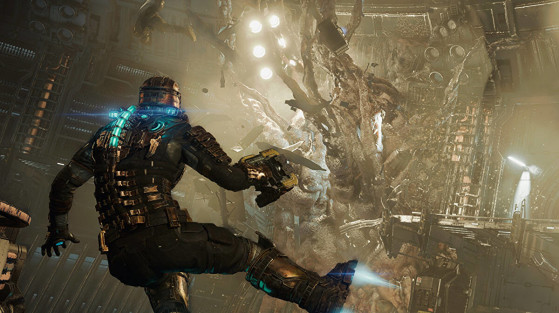 Gameplay and differences from the original
Dead Space Remake is still in progress 3rd person shooter survival horror here you will have to deal with the weapons and ammunition that will be in the USG Ishimura in order to survive and progress in the story. If the gameplay of the original is preserved, it is reworked and pushed further to achieve a more enjoyable and believable result.
Note some differences/improvements with the original:
Now Isaac has a voice. Unlike Dead Space (2008), where he had a silent protagonist, he will now be more alive and will give new dynamism to the story thanks to the voice of Gunner Wright. The same goes for Nicole and the other main characters.

Lots of side guests and new content will be there. Background characters will also have a greater impact and develop more.

The overall sound design has been significantly improved.

The camera constantly follows you and there will be no more loading time for full immersion.

New electrical switches are already part of the decor. You will find them at certain points in the game and you will have to use them to direct the power of the ship, the main thing is that you will have a choice between, for example, turning off the lights or turning off the oxygen. which in turn will affect how you play each part of the game.
Many secret rooms with varying levels of security hide hidden loot, encouraging players to take risks and sometimes retrace their steps after obtaining certain permissions and another dimension of intelligenceIshimura.
Finally brings Dead Space Remake noticeable changes to a number of his weapons. Without further ado, know that everyone retains their original gameplay, but many improvements, features, and upgrade systems have been made for a more complete and interesting game.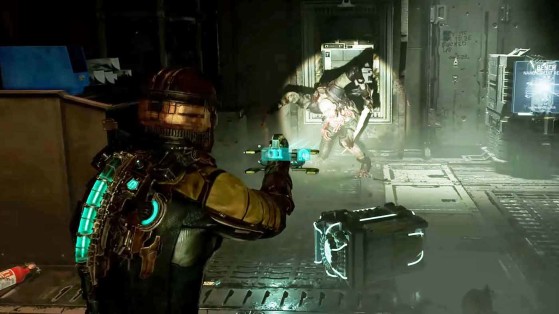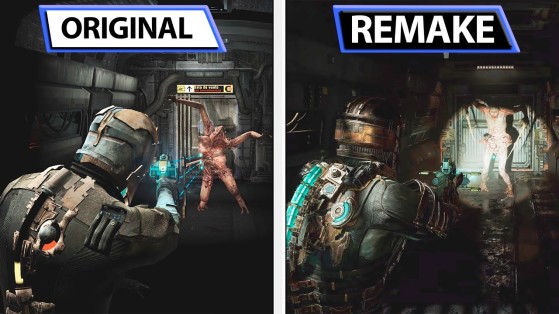 The script
The game maintains the same storyline as its original 2008 predecessor. Set in the 26th century, you play as engineer Isaac Clarke, a crewman on a repair ship assigned to the USG. ishimura, a giant planetary mining ship, is missing. While investigating a distress call from this ship sent by Isaac's companion, paramedic Nicole Brennan, the ship is attacked by mutated human corpses. It's every man on his own, dealing with this madness on a ship where Isaac will try to survive and save as many of his colleagues as possible and learn the truth behind his loss.ishimura.
Official launch trailer
The latest official launch trailer released 3 days ago, "Humanity ends here"somewhat reminiscent of The Callisto Protocol simply amazing. We know the atmosphere of the original in USG Ishimura, except that it is the 2023 version, which is beautiful, explosive, more cinematic and full of details, especially the visual effects (smoke, lights ..) . The sets seem more immersive and on an impressive scale, which scares us beforehand.
Dead Space Remake will therefore be available on PC (Steam), PS5 and Xbox Series next January 27. This is the first game of 2023 that promises to be incredible on the BM side, and we can't wait to get your hands on it to offer many guides to accompany you on your adventures!