Bitcoin Mining – Prediction for 2023
The website Hashrateindex has published its annual report on Bitcoin Mining. Take a look at the adventures of 2022 and the outlook for 2023.
Bitcoin Hashrate
2022 was a difficult year for miners. But just as bad luck is good for anything, Core Scientific's bankruptcy (10% of hashrate) is good for decentralization. Industry will simply re-locate around cheaper sources of electricity.
Moreover, despite BTC falling and energy prices exploding, hashrate hasn't stopped growing in 2022. Luxor reports 41% growth after 18% growth in 2021.
Recall that hashrate refers to the computing power dedicated to the security of the Bitcoin network. Miners are currently producing 255 million TH/s. That's 255 million trillion hashes every second.
Knowing that the best machine produces about 110 TH/s, there are about two million machines in the world. This increased competition has had a huge impact on miners' incomes.
And if we add to that the fall in the value of bitcoin, it seems that revenues have almost halved in the last year. This remained twice as high as in previous years: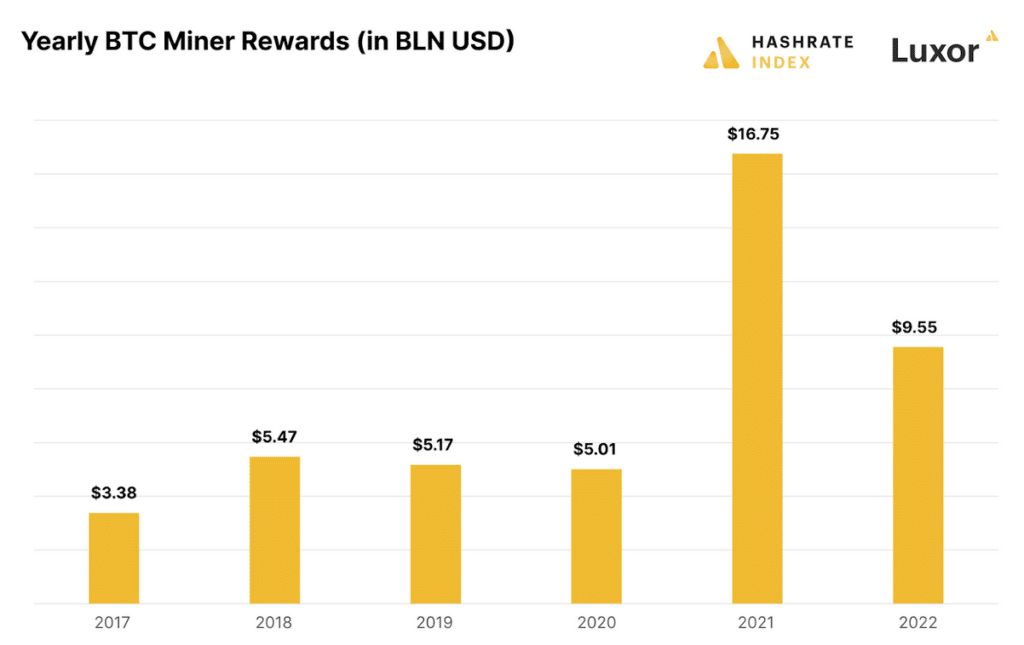 Hashprice
Hashprice is simply the average value (in dollars) of the daily rewards (~900 BTC per day) that miners receive for each petahash submitted to the network.
The average hash price of 2022 was $123/PH/day. In other words, connecting a dozen S19 Pro machines generated $123 a day in 2022.
The price continued to fall in 2022. It started the year at a high of $246/PH/day before falling to $56/PH/day, along with the price of bitcoin.
In short, hashprice reacts to two factors:
Bitcoin price
Total bitcoin hashrate
Obviously, hashprice only represents the gross margin. Then electricity, purchase of equipment, wages, taxes, etc. you must deduct the expenses.
Energy shock
Rising electricity prices have outstripped miners who are over-indebted and no longer making the effort to seek renewable sources of electricity.
In the United States, where approximately 40% of the grid is located, the average price per kWh for industrials increased by 16% in 2022. It was 8.5 cents per kWh.
If BTC goes below $20,000, that's already a lot for a miner when you know that the S19j Pro machines aren't profitable at more than nine cents per kWh.
However, American miners have partnered with power companies to obtain cheaper electricity. The other side is to shut down the activity on demand, during peak electricity consumption.
A good way to measure the evolution of electricity prices paid by US miners is to track hosting costs for consumer machines.
A reasonable hosting contract can offer $0.05-$0.06 per kWh before energy prices rise. It's not unusual to see $0.08-$0.09/kWh today.
bitcoin miners for sale
One thing led to another, the prices of mining machines collapsed. They sell for a fifth of the original price.
The price of the latest generation machines has been reduced by 85% from US$100 to US$15.
Older generation miners saw their prices drop by 82% from $26.53/TH to $4.72/TH. That is, antiminers before the S9 model, which was launched in 2016.
Indeed, these machines (ASICs) are designed specifically for the SHA-256 algorithm and are not used for anything else. So much so that their value is collapsing at the same time as bitcoin.
Reselling the machines when things go bad is not really an option for miners stuck in debt. Hence, the large volatility in the share price of bitcoin miners.
This is a massacre. Open-listed miners have lost 90% of their value. The share price of gas operator Greenidge has even fallen by 98%.
Note that these miners make up only 20% of the hash rate. It is still largely a private industry.
Forecast for 2023: Europe, Latin America, Russia
In Europe it would be an interstellar vacuum, given the price of the joule. Unless the energy companies wake up. This is what happened in 2022 with the Japanese giant Tepco. When is EDF?…
Latin America's share of hashrate is expected to grow slowly. Itaipu Dam produces more sap than Paraguay will ever consume. With electricity selling between 3.5 and 5 cents per kWh, mining should continue to grow.
The French BBGS recently settled there:
In Argentina, the new government led by Javier Meili can also take things forward. Especially since the country has almost 100% inflation for a year…
Russia should also see many miners prosper. Especially in Siberia, thanks to underutilized hydraulic resources after the closure of old industrial enterprises. Miners use the cheapest electricity in the world.
Mining is also used as a technology to reduce methane emissions. BitRiver has already settled in the oil fields of the giant Gazpromneft. According to Department of Energy estimates, the bitcoin mining industry consumes 2% of the nation's electricity, or about 1.7 GW. This is 30% more than in 2022.
Forecast to 2023: China, Middle East, Africa
Despite the facade ban, China still hosts the second largest mining fleet with 20% of the hashrate. The rest of the miners pay their dime to the CCP leaders… Luxor expects the Chinese hashrate to stagnate before declining.
The mining industry also thrives in the Arabian Peninsula, particularly in Saudi Arabia, the United Arab Emirates, and the Sultanate of Oman. Here again, BBGS is on the way.
And let's not forget Iran, which controlled 5% of hashrate before blackouts forced authorities to seize 150,000 cars. These have just been released.
Cows in Africa are thin. The largest installation on the continent is undoubtedly BBGS. Its 7 megawatt capacity located in Congo is derived from hydropower. A French miner's payment saved Virunga National Park, its director said.
It should also be noted that Kenya-based Gridless has just raised $2 million from miner Jack Dorsey. Africa is rising.
Finally, things need to be regulated in the United States, where the best corners are already saturated and electricity is becoming more and more expensive. Go here for a summary of Arcane Research's annual report, which focuses more on the price of bitcoin.
Get news from the world of cryptocurrencies by subscribing to our new service. newsletter daily and weekly so you don't miss any of the main Cointribune!
A journalist reports on the Bitcoin revolution. My papers deal with bitcoin from geopolitical, economic and libertarian perspectives.