Microsoft Surface Pro 9 (Intel) review: 01Lab's review
Every year its new generation Surface Pro. For this new era, we have access to Microsoft's Surface Pro 9 in Intel configuration. In the purest tradition, then.
Technical sheet and design
Surface Pro 9 (Intel), the historical "Pro" model 2-in-1, is a laptop created by Microsoft under the now popular Surface range, the most popular in the world. The device was officially released on the French market on November 8, 2022, with a starting price of 1,299 euros for the configuration incorporating the Intel i5.
We're testing here a model that packs the i7-1255U with an official starting price of €1,859.
The big strength of the range is retained in this Surface Pro 9: a large 13-inch IPS LCD display with Microsoft's signature 3:2 aspect ratio, which is obviously fully touch-capable. Even with a keyboard equipped with an integrated stylus like the Surface Pro X in this new version, the 2-in-1 computer itself remains very light. Still, the design is unchanged, for better or worse: the manufacturer's finish quality is still there, but the Surface Pro 9 doesn't proudly show off its new year.
Equipment / ergonomics
The format of the Surface Pro 9 allows it to retain its main advantage: being a relatively powerful computer that can be used for presentations or creative tasks. So the excellent hinge created by Microsoft still holds up perfectly and remains an oft-imitated, never-equaled element of the Surface range. It can be placed at a classic laptop angle or even placed almost completely flat, absolutely perfect for drawing.
Unfortunately, the Surface keyboard is still not sold with the tablet: the entry-level model will require an additional budget of at least 150 euros. The Signature keyboard we tested here, which includes a slot for the Slim Pen 2 stylus, costs €30 more. As for the Slim Pen 2, you will have to add another 130 euros. The latter is comfortable, with well-placed and rounded buttons for the touchpad, which today is undoubtedly considered "small", but with a satisfactory diagonal considering the concept of the product. But that's as usual laptop not really intended for use on your knees: you need to use the product on a flat and hard surface for real comfort.
On the connector side, there are two USB-C 3.2 ports, as well as a proprietary Surface Connect magnetic port. Given the pro side of the product and the fact that Microsoft itself no longer makes Surface Connect accessories, we'd have preferred to see an extra USB-C port or two here, or at least some sort of SD card reader. At least charging via USB-C is still possible, but charging this way means taking up one of those precious ports.
Screen
Microsoft always emphasizes the quality of its panels in the Surface range. The 13-inch IPS LCD PixelSense display integrated into the Surface Pro 9 supports a 2880 x 1920 pixel definition for a 3:2 aspect ratio and a 120Hz refresh rate, so it should be the minimum above the lot. Fortunately, it doesn't disappoint: to further improve readability in direct sunlight, its maximum brightness rises to 457 cd/m² this year, up from 400 in the previous model. Just like its contrast, which achieves the expected result for a good IPS LCD panel with a ratio of 1257:1.
However, we must not forget that competitors such as the HP Specter x360 now include OLED panels that are far superior in this regard. But Microsoft doesn't forget about calibration: with an average Delta E00 of 2.09, it's 44.4% more accurate than the average PC tested by our lab. To get the most out of it, you should prefer the sRGB mode, which is enabled by default.
An important point remains to be emphasized: by default, the manufacturer provides the Surface Pro 9 with a refresh rate of 60 Hz. You'll definitely have to go into the options to enable dynamic refresh, which can go up to 120 Hz. will understand Make this choice quickly by reading another section of this test: the section devoted to autonomy.
Performance
Like the vast majority of ultrabooks of its generation, the Surface Pro 9 is equipped with the 12th generation SoC Intel i7-1255U, which combines 10 cores (2 powerful and 8 efficient) for maximum Turbo at a frequency of 4.7 GHz. It is paired here with 16GB of LPDDR5 RAM and 512GB of storage on PCIe x4.
Intel's 12th generation evolution is evident in this product. Even if it is not particularly visible in the PCMark test, there is a performance increase, since its office character makes it a good reflection of everyday use. We are guaranteed no slowdown with this chip in its best form, but pay attention to heating under heavy loads: in our tests, the temperature of the chassis can rise to 41.6 ° C, which is uncomfortable for using a tablet.
Our Geekbench and Cinebench R23 tests, on the other hand, show a big difference that shouldn't be multi-core. This is normal… except: if the Intel SoC can really reach these theoretical scores, it is important to note that the cooling system of the Surface Pro 9 is not able to maintain these capabilities. In actual use, its significant heating prompts it to halve its performance, putting it in the same water as the HP Specter x360 and Elite Dragonfly G2, even though these two references are not from the same generation.
More technically: thermal regulation is very marked on the Surface Pro 9 Intel. Thanks to the power of the chip, if the tasks in the "burst" will not be a problem, the work pushed over time, such as graphics or video rendering, is far from being its strength. It may be necessary to change the thermal design of the machines to accommodate the new generation of processors. However, the Surface Pro 9 manages to stay relatively quiet considering its format, 28 dB at rest for 34.3 dB at full load.
Autonomy and charging speed
U processors and ultrabooks are usually the standard bearers of battery life in Windows laptops. As a product created by Microsoft itself, we have the right to have certain expectations about the autonomy of the Surface Pro 9. But unfortunately, there is no real evolution compared to the previous generation, the autonomy in general purpose use has been increased to 8 hours and 22 minutes for a final result almost equal to the Pro 8. The product is 10.6% less autonomous than the average of hybrid computers tested on 01net over the past 24 months.
Be careful though: note that these autonomy tests were performed on the device in its default configuration, i.e. with the screen locked at 60 Hz. If you want to use a higher refresh rate, keep in mind that the impact on autonomy will not be negligible. of the product.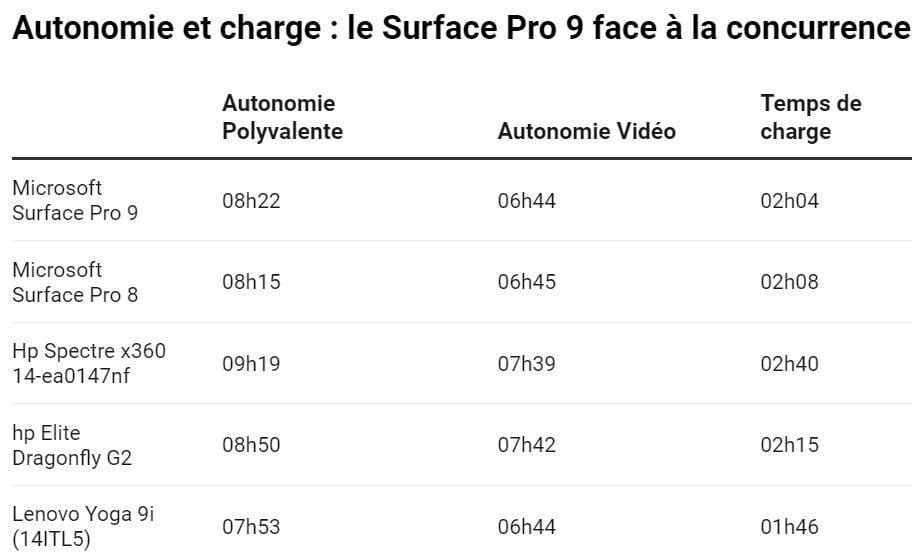 The same goes for charging, which is done with Microsoft's special charger that includes a USB port extension. It charges the device in 2 hours and 4 minutes. However, note that the USB-C ports are compatible with PowerDelivery, which will allow you to use a classic 45W USB-C charger to give your tablet some power.