Do you like Brahms? Double concerto for violin and cello at L'Arsenal
THERE ISyou like yourself Brahmsand Schubert also?
Three artists, three musical personalities, a chef Adrian Parabavaviolinist Diana Tishenko, cellist, Edgar Moreau, orchestra,Metz Grand-Est National Orchestraa room, o Metz ArsenalA date to remember Friday January 23 at 8:00 p.m. A taste of a moment of great beauty and emotion!
That's why in tonight's program Double concerto for violin and cello of Brahms and Symphony No. 9 of Schubert.
This concert is placed under a selective proximity tag. Those who associate the orchestra with Brahms were realized, especially in the recording First piano concert With Geoffroy Couteau. those who Adrian PrabavaHis every look is loved by musicians as well as the public. Adrian Prabava In 2006-2009, he was Kurt Masur's assistant conductor at the Orchester National de France. He has conducted many major orchestras such as the London Philharmonic, the Paris Orchester, the Orchester National de France and the Orchester Royal du Concertgebouw from Amsterdam.

Among the close ones to choose from Brahms and his favorite violinist Joseph Joachimwhich he proposed Double concert as a reconciliation gift after falling a fool. With two young soloists whose careers are on the rise and this "Grande". Symphony in C The happiness of Schubert, whose "divine lengths" charmed Robert Schumann, is complete.

Diana Tishchenko
Considered one of the most interesting young artists of recent years and the winner of numerous international competitions, Diana Tishchenko He had already conquered and thrilled the public of Metz during his first concert with the Metz Grand Est National Orchestra in 2021. Violin concerto by Tchaikovsky.

Diana Tishchenko is considered one of the most exciting young artists of recent years. In 2018, he won the Jacques Thibaud Grand Prix at the famous Long-Thibaud-Crespin international competition chaired by Renaud Capuchon and was signed to Warner Classics & Erato.
Edgar Moreau At the age of 11, he made his debut with the Turin Teatro Regio orchestra. Not less! He is a musical elf who knows the Arsenal venue well, where he has come to play many times.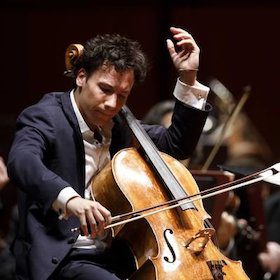 Born in Paris in 1994, Edgar Moreau started playing the cello and piano at the age of four. Boulogne-Billancourt Conservatoire In 2010. After teaching Xavier Gagnepainit is accepted Paris National Conservatory of Music and Dance in the class Philip Muller In 2009. He joined later Kronberg Academy where he studied Frans Helmerson. Already at the age of eleven, he performs as a soloistOrchestra of the Teatro Regio of Turin In 2006.
Already a very rich musical career with artistic combinations and collaborations with the most prestigious phalanxes and under the leadership of very great conductors… Moscow Philharmonic Orchestra, Polska Sinfonia Iuventus Orchestra (under his direction) Krzysztof Penderecki), Orchestra of the Mariinsky Theater (under the baton Valery Gergiev), the Simon Bolivar Orchestra in Caracas, the St. Petersburg Philharmonic Orchestra (with Jean-Claude Casadesus), Orchester de la Suisse Romande, Orchester du Capitole de Toulouse (with Tugan Sokhiyev), Malaysian Philharmonic Orchestra in Kuala Lumpur, Hong Kong Sinfonietta, Franz Liszt Chamber Orchestra, Orchester de Paris Alain Altinoglu…
Awarded the Edgar Moreau Award 2009 Rostropovich Competition, Tchaikovsky 2011 or even Young Concert Artist 2014wonClassical music triumphs in 2019.
He plays the cello David Techer 1711 year. Tecchler 1668-1747) was an Austrian luthier who settled in Rome in 1690 and whose craft was heavily inspired by the schools of Cremona or Venice.
Johannes Brahms
Double concerto for violin, cello and orchestra
Franz Schubert
Symphony No. 9 "Big"
Arsenal. Metz. Main hall, 2h10 break included
Would you like to comment on this post?
or even suggest topics and articles?
Don't hesitate!
Contact: editorial@wukali.com