Samsung S90C OLED: more affordable and brighter
Samsung S90C OLED presented at CES 2023. This is a new series, the manufacturer's goal is to offer a more affordable and brighter TV than its predecessor Samsung S95B. It belongs to the new Samsung OLED 2023 TV series, which consists of two TVs, S90C and S95C. The S90C takes advantage of the latter remote box when connecting the connectors to its chassis.
While the 2022 S95B version is limited to two diagonals of 55 and 65 inches, the Samsung S90C has three diagonals of 55, 65 and 77. In turn, LG has a wider selection of sizes from 42 to 97 inches.
The S90C uses a new generation Samsung QD-OLED panel. It's also a huge improvement, as the manufacturer claims 2,000 nits of brightness peaks. A value close to Mini LED TVs known for their high brightness. OLED TVs have two weaknesses, their limited brightness and their glossy panel which is prone to reflections. With such a peak of brightness, Samsung can improve the situation.
Samsung S90C OLED
OLED TVs have come a long way in recent years. The lifespan of OLED panels has been significantly increased. Similarly, the brightness is significantly increased and the risk of branding is greatly reduced. Today, when looking for the best TV, OLED technology is the benchmark.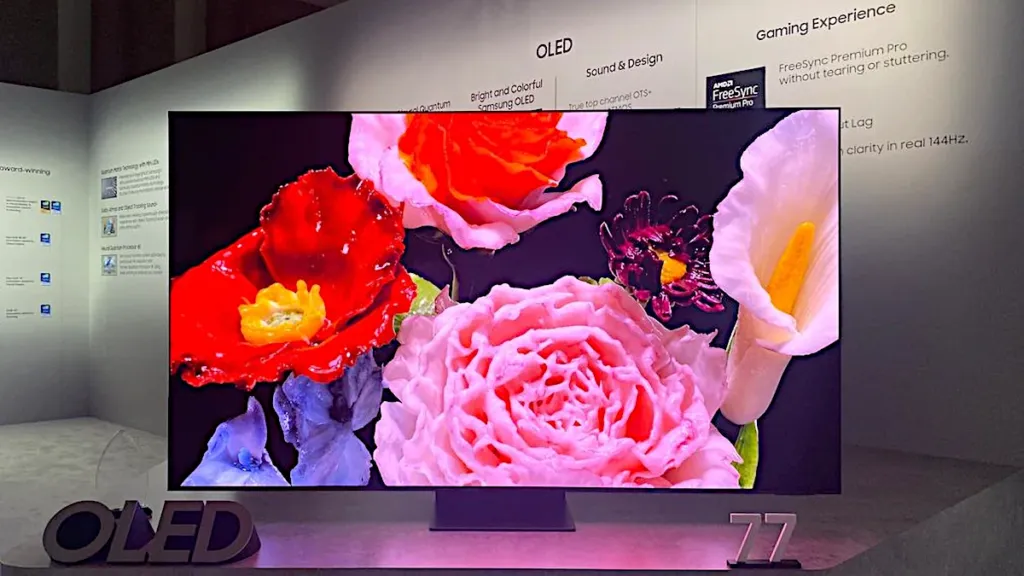 However, the improvement in brightness to 2000 nits is something to be taken with a grain of salt. Such high brightness peaks can be achieved in only 3% of the screen area. If the area is 10%, the brightness drops to 1500 nits. Samsung panels use a standard RGB subpixel layout instead of the WRGB layout used by LG panels like the LG C2 or G2.
To read: Types of OLED panels: WOLED, QD-OLED, RGB-OLED – Differences
Brightness is not the only factor that contributes to image quality. Makes bright objects stand out and prevents glare. However, at a brightness range of 2000 nits, a difference of 200 or 300 nits remains barely noticeable. For its part, LG announced the G3 series for 2023 with 1,800 nits of brightness, launching the LG G3.
| | | |
| --- | --- | --- |
| S90C | 55″, 65″, 77″ | 144 Hz |
| S95C | 55″, 65″, 77″ | 144 Hz |
2023 Samsung OLED TV series
More affordable Samsung S90C?
The price war is an important element between LG and Samsung. The S90C is billed as a more affordable TV, but there is no official price information yet. Samsung entered the OLED market with the Samsung S95B, a TV that competes with the high-end LG G3. For its part, LG had several OLED models in 2022: A2, B2, C2, G2, and we will undoubtedly have an equivalent in 2023. The most popular LG TV in 2022 was the LG C2 for its price, but Samsung did it. Do not offer a competitor at this price level.
Samsung S90C technologies
The main difference between the Samsung S95C and S90C is in their design and the presence of a remote case. The S95C is slimmer thanks to its One Connect body, while the S90C has a larger block at the back.
Both TVs come with 144Hz refresh rate and Samsung Gaming Hub feature. They're also the first OLED TVs to be AMD's FreeSync Premium Pro certified for variable refresh rates with HDR.
The new Quantum Neural processor is installed in this series of Samsung OLED TVs. It boasts of 14-bit processing and enhanced AI expansion.
A feature to convert SDR content to HDR
Samsung S95C is equipped with Samsung's new "Neural Quantum Processor 4K" video processor. It has a new feature called "Auto HDR Remastering" that converts SDR content to HDR. It features a 4.2.2-channel 70W speaker system that supports Dolby Atmos, a step up from last year's 2.2.2-channel system.
As for the operating system, it upgrades to Tizen 7.0 and integrates Gaming Hub, which offers access to cloud gaming (video game streaming). At this time, Samsung has not announced the upgrade of previous years' TVs to Tizen 7.0.
Samsung S90C's cloud gaming support with Gaming Hub lets you take advantage of NVIDIA GeForce NOW and also Microsoft Xbox offer.
In 2023, Zigbee and Matter protocols will be integrated directly into Samsung TVs. This means you won't need a separate SmartThings dongle to integrate into a smarter home.
Samsung S90C references
Samsung QE55S90C (55 inch, Ultra HD 4K, 4K/144)
Samsung QE65S90C (65 inch, Ultra HD 4K, 4K/144)
Samsung QE77S90C (77 inch, Ultra HD 4K, 4K/144)
The Samsung S90C will go on sale in the first half of 2023. Pricing details will be confirmed later.
Read also