CES 23 > Oled TV LG G3, updated specifications and photos
As announced in our columns three weeks ago (see our CES 23 news > LG G3 Oled TV, MLA technology for +70% light peak on 55"/65" and 77" panels), the Korean manufacturer claims via a press release in the preamble to the CES show in Las Vegas 2023 that it has increased light peak +70% in the LG OLEDG3 TV series for 2023. On this occasion, LG also reveals some specifications and design. televisions with some visuals.
We repeat, be careful, this indicator (see below) for the brightness peak of the TV equipped with the MLA (Micro Lens Array) process is understood in comparison with the LG A3 or LG B3 Oled TV series, which are less or the same. LG A2 and LG B2 Oled TV series. That's about a +20% gain over the LG G2 equipped with an EX panel, which isn't inferior. So, according to an LG official, the peak can be 2000 nits and more than 230 nits for a 100% white screen. Needless to say, it will be a matter of spot-checking these statements after the manufacturer's previous announcements for their previous TV ranges. Also, check that this value is validated or can be used to display HDR content (e.g. see if it can be displayed after a few seconds).
It's also worth noting that LG isn't yet using the term Micro Lens Array in pre-CES communications, but the "cap" new light control architecture as well as light amplification algorithms to increase brightness up to 70% ". Of course, the manufacturer is saving this name for the CES 2023 press conference scheduled for January 4 at 17:00 French time.
LG G3 MLA Oled TV, microlens technology
Recall that the MLA process (originally called Metal Light Lens Array, see our news LG Display reacts to QD Oled Samsung Display technology with Oled Smart TV offering 2000 nits) lies in the addition of microlenses to the Oled TV panel, the purpose of which is to optimize the path of the light created by the diodes, directing it completely outside, that is, to the side of the panel. So, while a classic OLED panel has a brightness peak of around 800 nits and an OLED EX around 1000 nits when leaving the factory, a micro-lensed panel should peak at 1100/1200 nits. Another positive point is that this better luminous efficiency affects energy efficiency, improving again for lower final consumption (see our news published last May already: LG Display Experiments with a process to increase the brightness of Oled by 20%). A slightly negative point, these micro-lenses, directives imply a smaller angle of vision. But as far as we know, nothing too bad.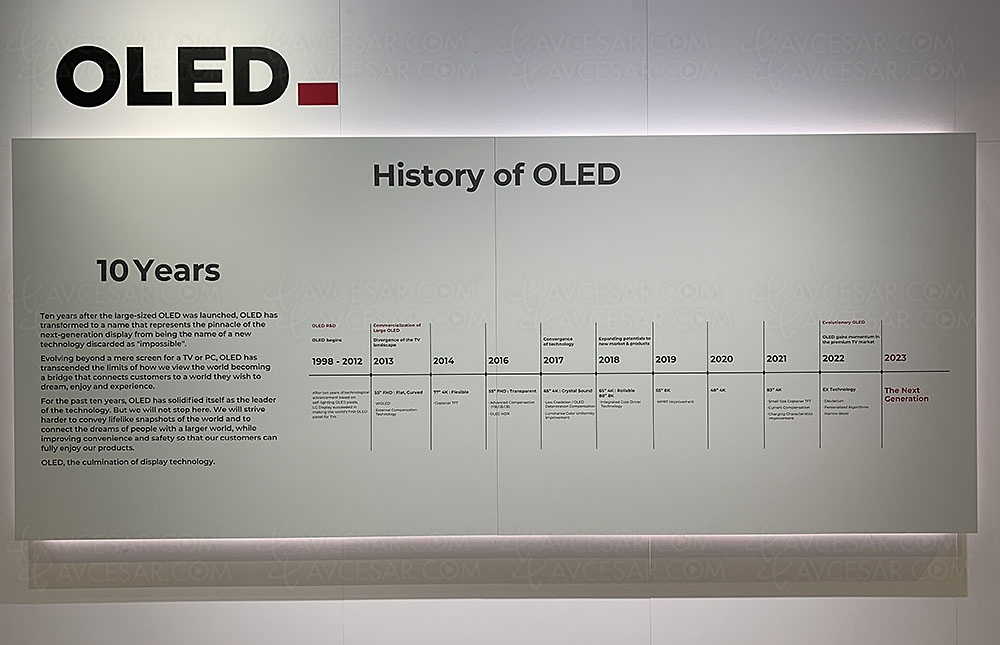 LG G3 MLA Oled TV, only in 55"/65" and 77" diagonals
As we announced in our previous news about the LG G3 series, the MLA process will not apply to all diagonals of the LG G3 Oled TV series. 55" (140cm), 65" (165cm) and 77" (196cm) models will benefit from this, while 83" (211cm) and 97" (246cm) models will not. . Anyway, as we expected from the previous news published about the IFA Berlin 2022 show last September (see our IFA 22 news > Oled TV panel, LG Display announces new generation 2023), a teaser made by LG at its stand announcing the new generation of Oled panels for 2023 (see photo above) therefore refers to the integration of MLA technology.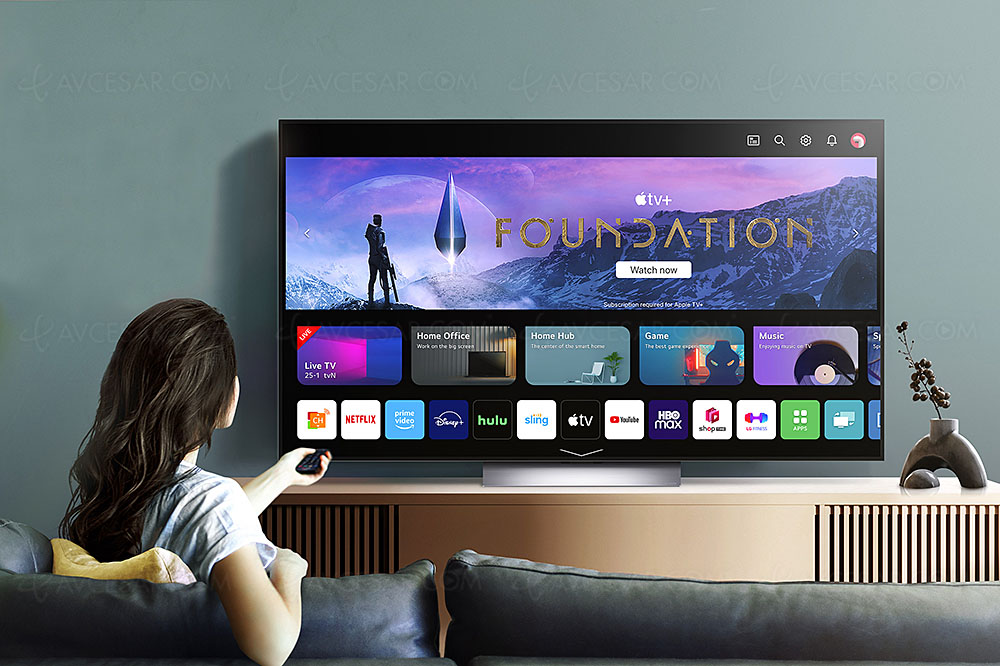 LG G3 MLA Oled TV, other specifications in bulk
Finally, the LG press release provides some information about other specifications of the LG G3 TVs. The menu includes the expected Alpha 9 Gen 6 processor, the successor to the Alpha 9 Gen 5, the new Oled Dynamic Tone Mapping function, which now optimizes the color conversion of more than 20,000 image areas, compared to 5,000 last year, AI Sound Pro sound section in 9.1.2 the creation of a virtual sound environment, the One Wall design implemented through an unprecedented wall mount to completely stick the screen to the wall, a completely redesigned webOS 23 Smart TV interface for ever-increasing customization according to the user's wishes. It will be possible to group by topic and access the content easily. We also note certification with the latest Matter home automation standard. Likewise, HDMI 2.1 connectors in 2023 will benefit from the QMS feature announced for the 2.1 standard in 2017 (see our news HDMI 2.1 standard, welcome official additions, technical and ergonomic), eliminating black screens when switching from one HDMI source to another.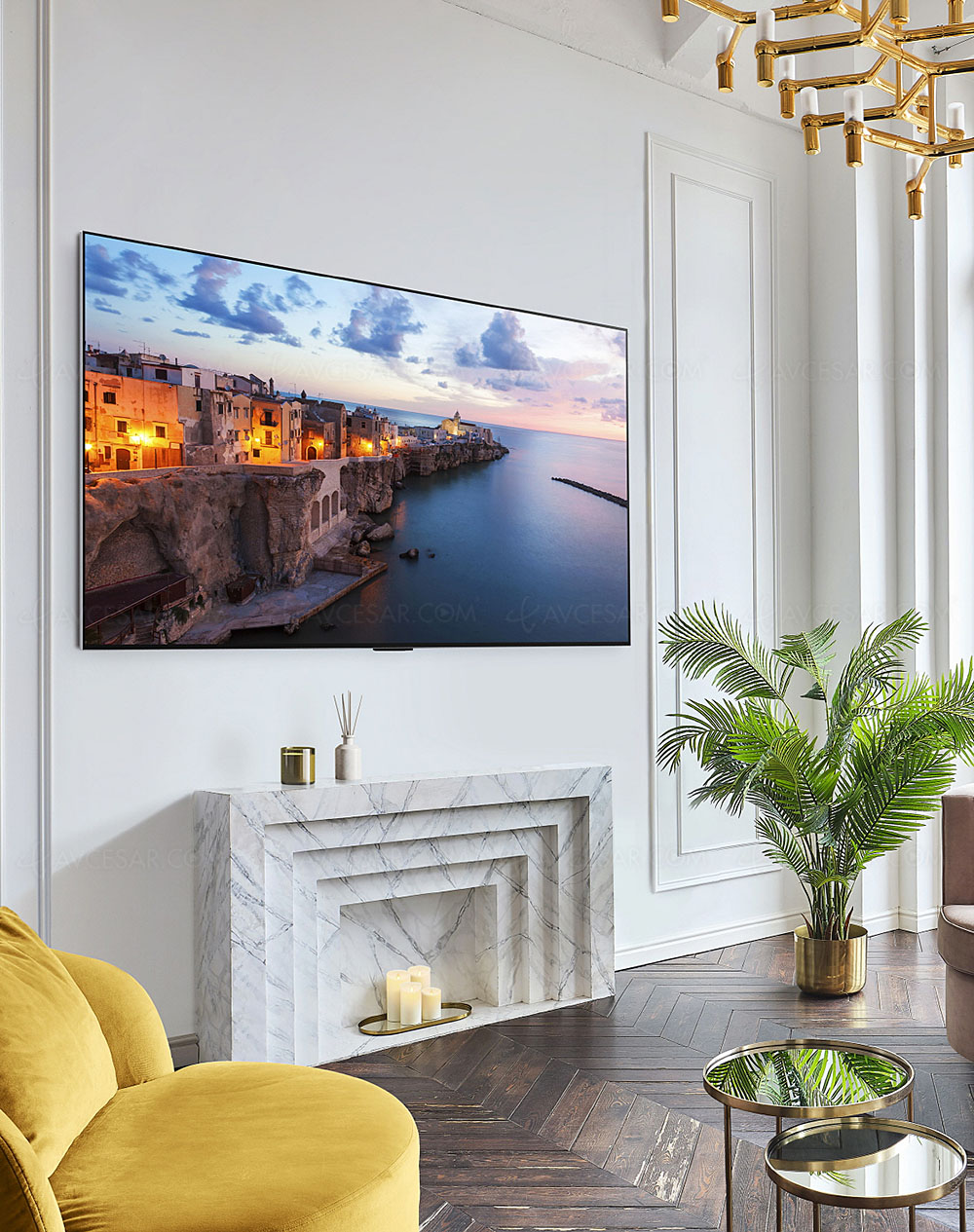 Finally, Wow Orchestra technology was also announced in our columns in early December (our news to see CES 23 > LG 2023 soundbar, Q-Symphony features new Wow Orchestra to compete with Samsung). For the rest, we find all the equipment of the LG G2 TVs, except for the HDR Dolby Vision Precision Detail feature, which has disappeared from the shelves. It should be noted that this disappearance appears to be the will of Dolby Laboratories, not LG.
Availability was announced in late March, early April. Indicative prices are not yet known.