MLA technology for 1500 nits
As usual, the Japanese manufacturer uses the CES show in Las Vegas to present its premium TV series. Therefore, the same is true with the Oled Panasonic MZ2000 TV series in 2023.
Like the 2022 LZ2000 series, the MZ2000 has three references, the Panasonic TX-55MZ2000 (140cm), the Panasonic TX-65MZ2000 (165cm) and the Panasonic TX-77MZ2000 (196cm).
Panasonic MZ2000 Master Oled Ultimate panels with MLA for a bright peak at 1500 nits
Namely, the first two models are the only ones to benefit from the new Master Oled Ultimate panels equipped with the MLA process (Micro Lenses Array for microlenses, see photo above) developed by LG Display, also announced in certain diagonals of the LG G3 vintage 2023 (see our CES 23 news > LG G3 Oled TV, MLA technology for +70% light peak on 55"/65" and 77" panels).
With the latter, Panasonic is touting a peak brightness of 1,500 nits, as shown in the photo below taken from the brand's just-concluded press conference hours before the opening of the Las Vegas 2023 CES show. The so-called Panel Master Oled Pro Cinema Size remains the same as the 77" model 77LZ2000.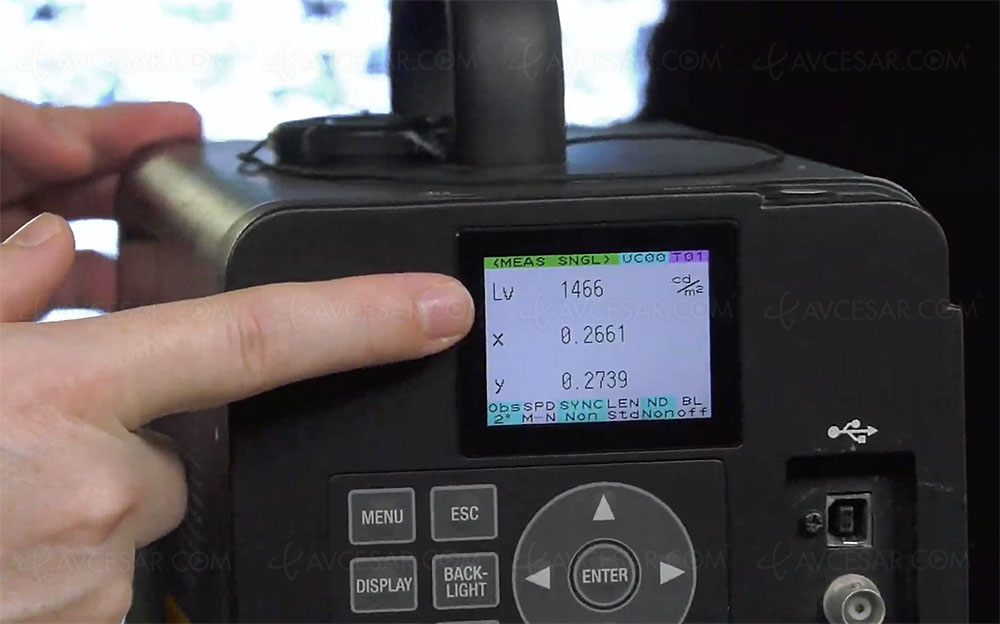 Panasonic MZ2000 Oled TV, basic specifications
Panasonic MZ2000 TVs offer all the equipment of last year's LZ2000 models, in addition to the latest technical improvements from in-house engineers, of course, for a better image, especially for video games: Game Control Panel function, Input delay optimization 60 Hz games, 60 Hz up to Dolby Vision HDR support, AMD FreeSync Premium certification in Game mode and automatic detection of nVidia processors (G‑Sync compatibility).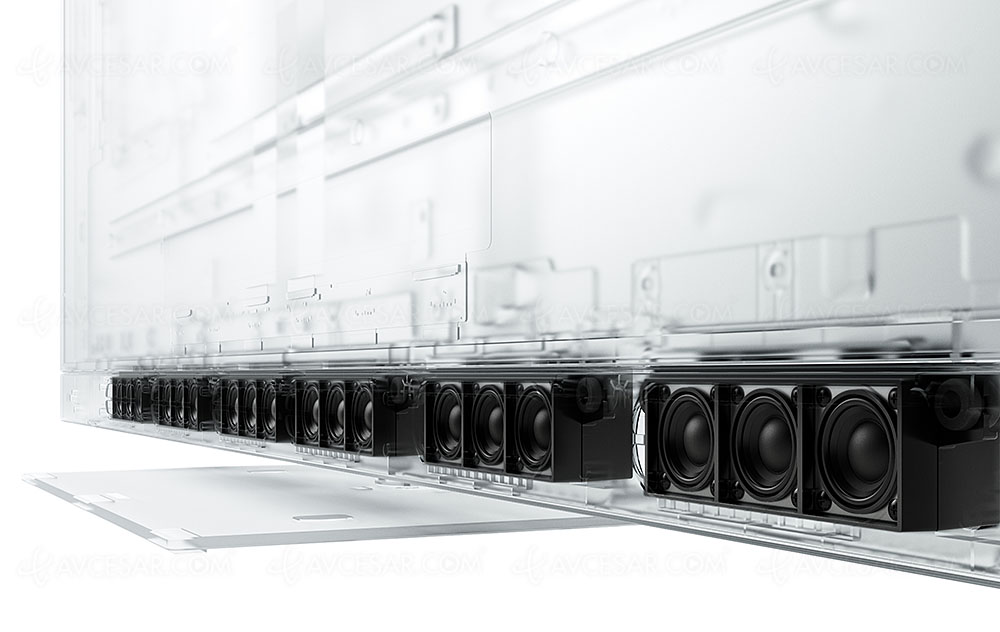 Panasonic MZ2000 TVs have a soundbar with 16 network front speakers (in-line and grouped) connected to the LZ2000's sound section, i.e. side speakers and those in an Up-Firing configuration. Of course, the entire audio system of Panasonic MZ2000 TVs is designed and configured by the engineers of the famous Hi-Fi Technics company owned by Panasonic. New for 2023, there is a Bass Boost function to increase the bass impact.
HCX Pro AI processor
Panasonic MZ2000 TVs have a HCX Pro AI Processor chip, whose algorithm is based on Machine Learning technology to adapt the best settings according to the displayed content in real time (analysis of the image every second). Namely, this Machine Learning process is combined with a huge image database of over a million video clips. Of course, the HCX Pro AI Processor chip also works automatically with the sound provided by the Panasonic MZ2000 TVs, resetting the program, movie, sports, etc. adapting to nature.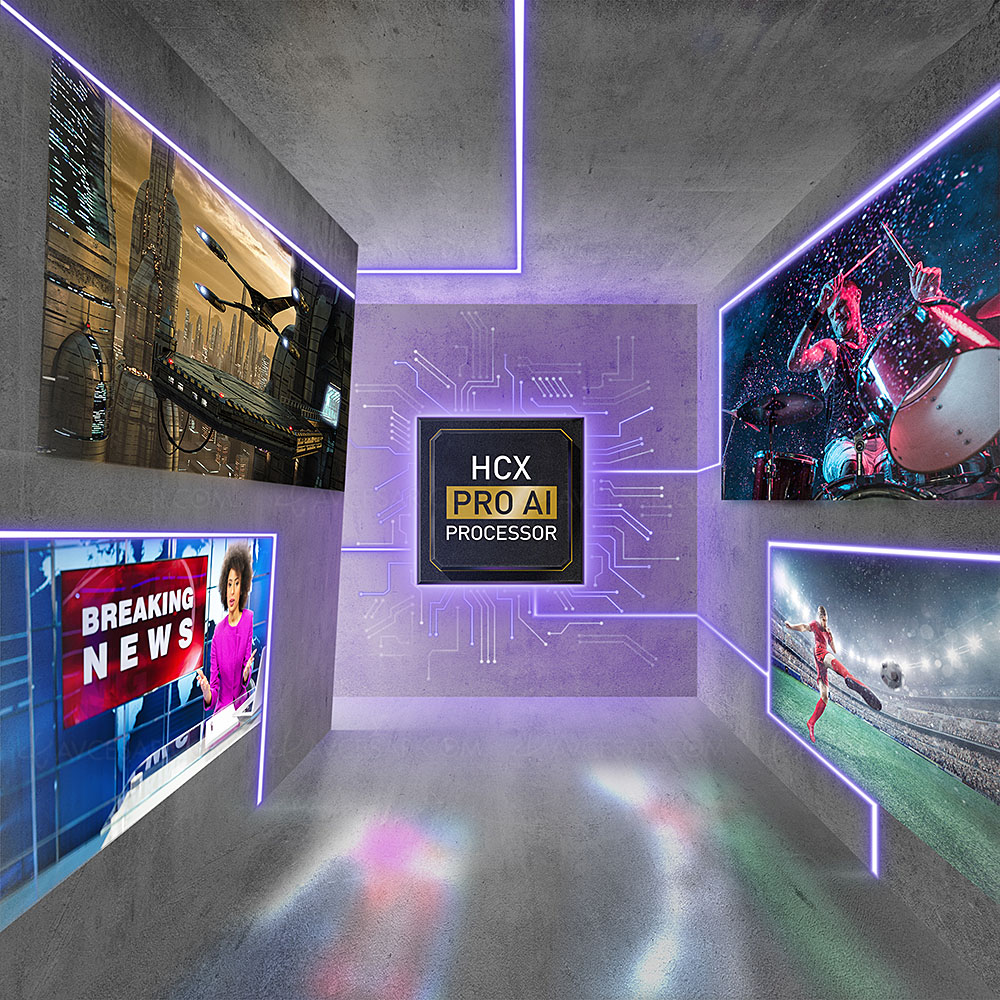 Game Board
As already mentioned, video games are one of the aspects that Panasonic paid special attention to in the Oled MZ2000 TVs. In addition to the minimum Input Lag of 1.5 ms with 60 Hz games (10.5 ms otherwise), we of course note the presence of two HDMI 2.1 connectors (plus two HDMI 2.0) VRR, ALLM and HFR 4K /120 compatible (s) . Note that eARC feature management is required.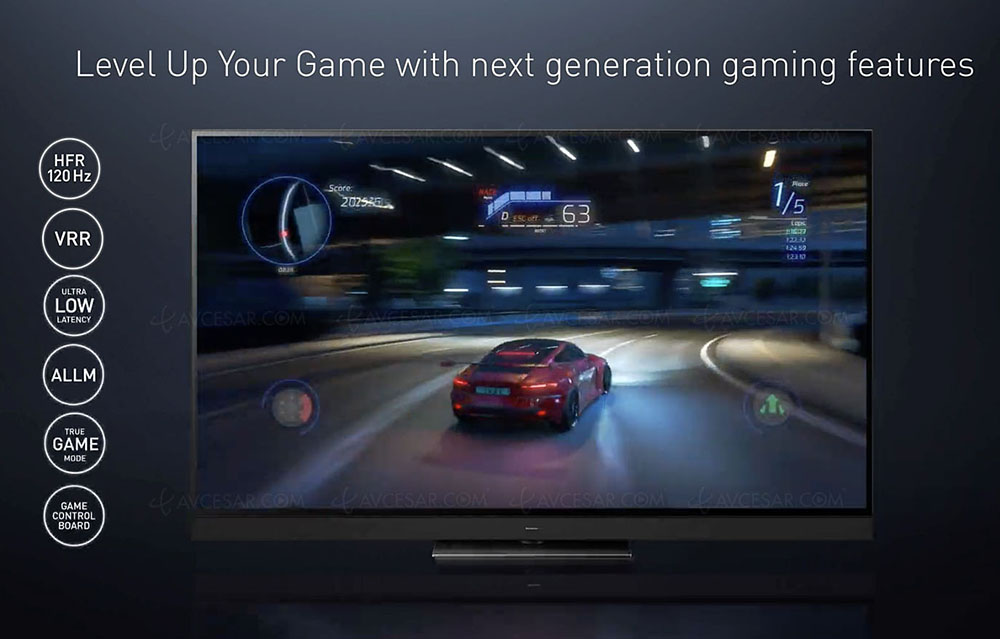 HDR Dolby Vision IQ and Filmmaker mode
Recall that the purpose of the Dolby Vision IQ process offered by Dolby Laboratories is to always offer optimal image quality in the presence of HDR Dolby Vision content, regardless of remote playback, ambient light conditions.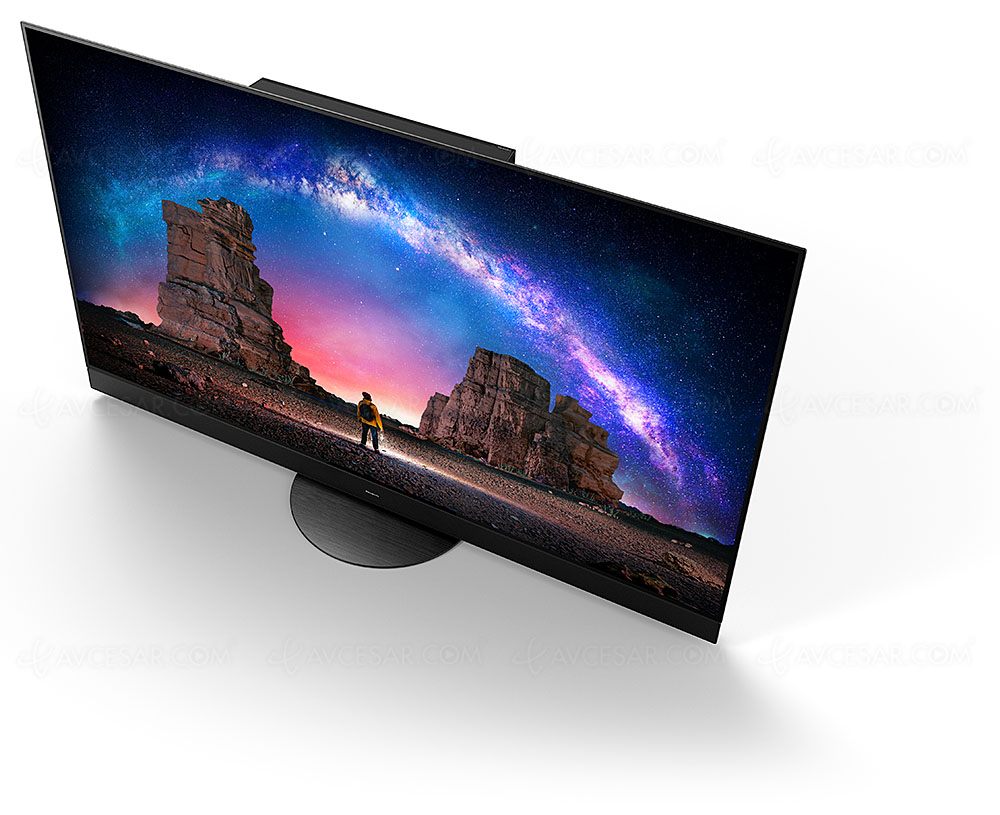 And to adapt the TV image parameters as much as possible according to the real-time analysis of the displayed content. So in a snow landscape, HDR Dolby Vision IQ affects the color temperature to approximate the whiteness of the powder.
Namely, the Panasonic MZ200 TVs' Cinematic mode selection is linked to the Smart Sensing process. The latter uses the TV's brightness sensor to adjust the display of HDR according to the lighting environment. More generally, and with the aim of constantly improving the displayed image quality, MZ2000 TVs incorporate an RGB sensor that can adapt the color temperature displayed on the screen according to the environment, no longer just affecting the brightness.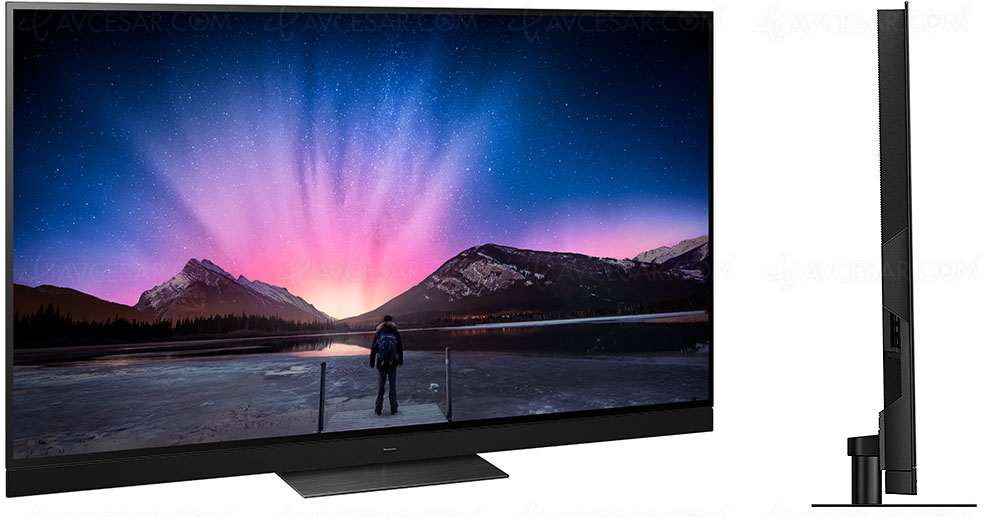 HDR10+, HDR HLG, HDR Dolby Vision and HDR Photo
In addition to the aforementioned HDR10+ Adaptive, Panasonic MZ2000 TVs are of course compatible with HDR10+, HDR HLG and HDR Dolby Vision, not to mention HDR Photo, an HDR format for digital photos that also appeared in 2019.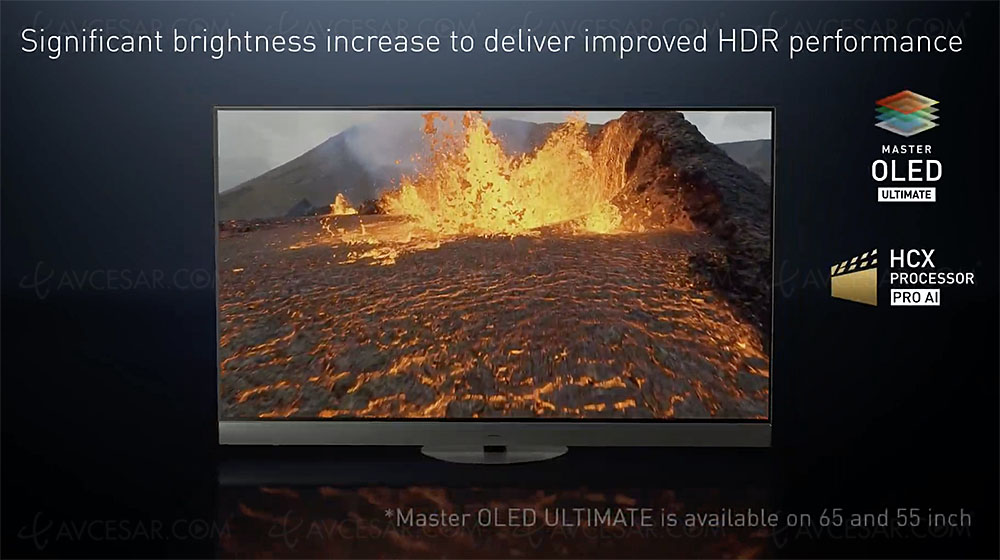 Similarly, Panasonic 2020 Oled TVs now have the ability to disable Tone Mapping (color conversion between an image with a larger dynamic range than a diffuser to avoid clipping or clipping) and set the TV's clipping level. the menu is always relevant. This way, content producers will be able to take full advantage of the TV's performance in this area, so that cutting actually occurs at the maximum of the TV's capabilities, and not before. The result is a richer, more natural image.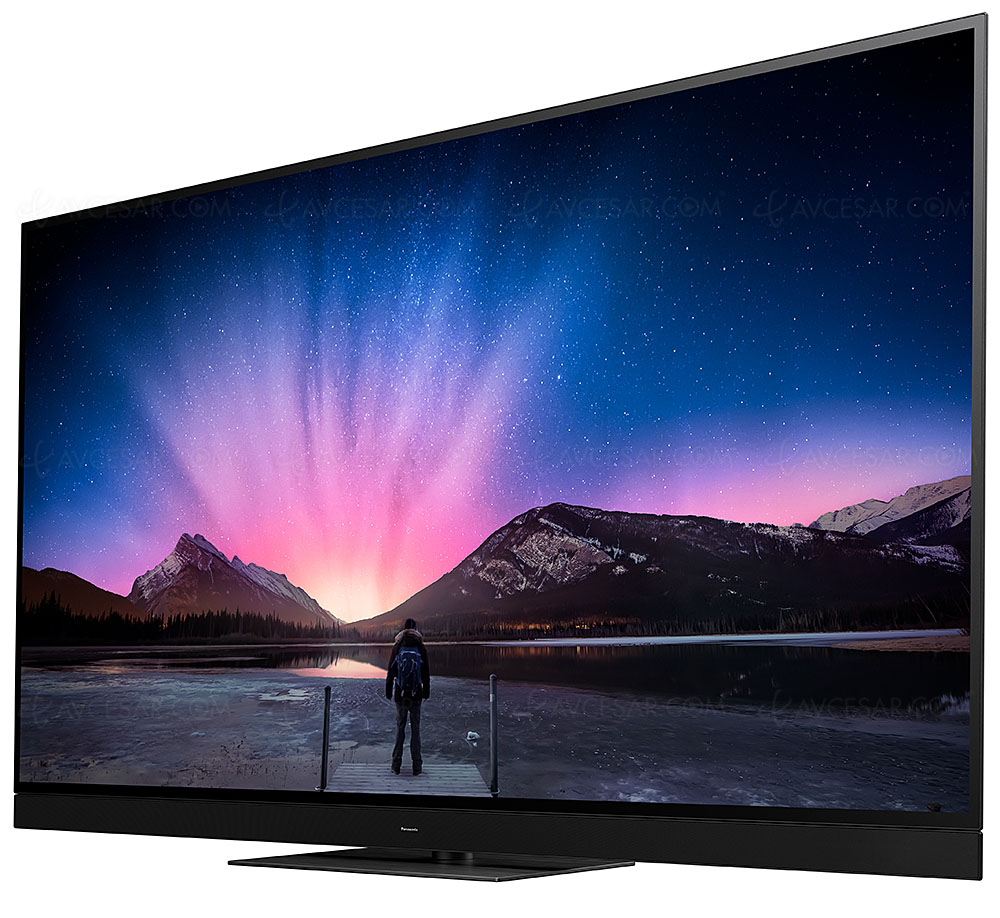 CalMan compatibility in the menu
Panasonic MZ2000 TVs also support CalMan PatternGen test patterns from CalMan Portrait Display software via AutoCal functionality. Other precision, ISF certification and integrated into LZ2000 models, 3D Lut (color change table) which instantly adapts to changes in brightness, is still in the program in MZ2000.
Dolby Atmos compatibility
Panasonic MZ2000 TVs always incorporate an audio system with Up-Firing speakers called 360° Soundscape Pro to reproduce Dolby Atmos music effectively. Likewise, as mentioned above, these TVs always place side speakers to perfect the audio scene, especially the 3D sound bubble.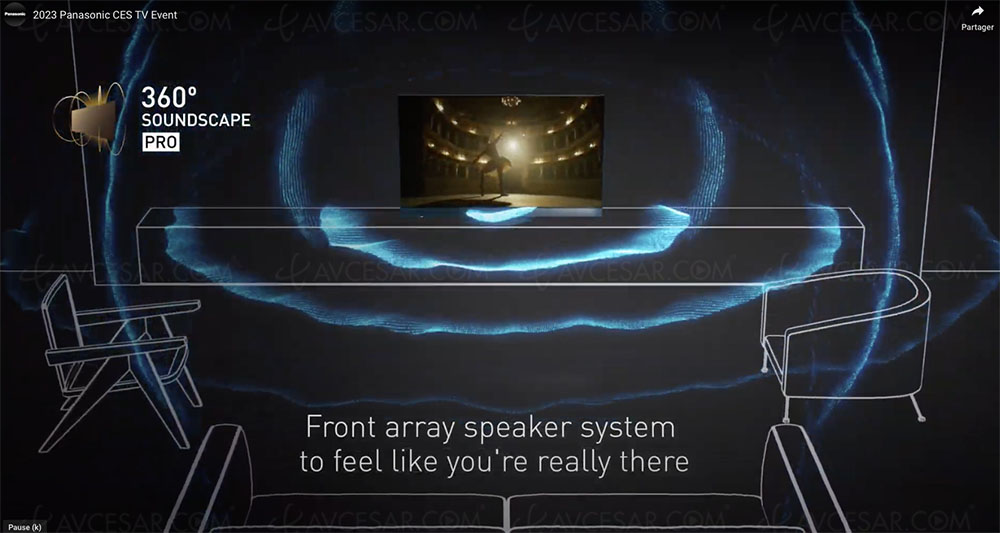 Smart TV My Home Screen 8.0, Google Assistant and Amazon Alexa are integrated
The new Smart TV My Home Screen 8.0 feature offers the ability to customize the home screen (My Screen option) with a photo or video option. Panasonic has partnered with LoungV Studio and Joy Foundation to deliver quality relaxation videos. Access to VOD and content is also simplified thanks to a redesigned graphical interface based on icons representing devices connected to the TV, as well as Netflix, Amazon, Disney+, Apple TV+ and YouTube. Users can even add frequently watched TV channels directly to the home screen.
Dual Bluetooth connectivity allows you to connect two compatible devices at the same time. So, for example, it is possible to enjoy TV sound on two separate wireless headphones.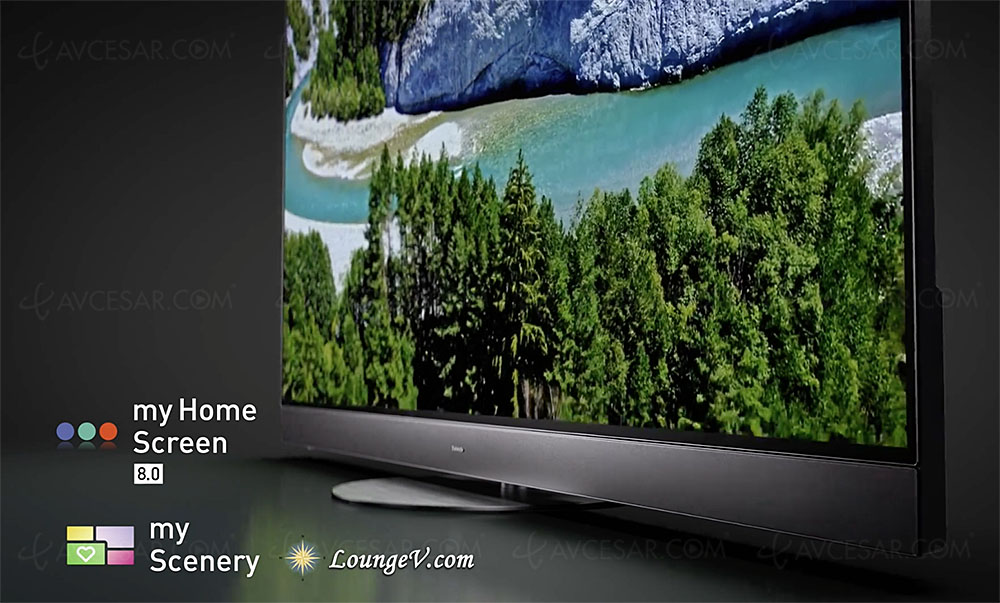 Finally, Panasonic MZ2000 TVs also integrate Google Assistant and Amazon Alexa (requires Google Home or Amazon Echo speaker), allowing voice control of the TV's main functions.
Expected availability of Panasonic MZ2000 Oled TVs for spring. Indicative prices are not yet known.