FAIT DU SOIR Cévennes: the campus is on the lawn
The University of Lille, the agronomy school in Dijon… 15 of them run training courses all over France… without leaving the chestnut trees of Vigan. This city is one of the first French sites to create a "connected campus". But Vigan wants to go further and open a "Cévennes campus" for 120 students in 2024.
" We received good news yesterday. A smile spreads across Rachid Mdaam's face. This tall brunette woman points to a column of numbers: " Melody received the second year of her NPP license (administration, economics and social). She confirmed this by giving birth to two children under the age of two. This Gardois is the first tutor to be recruited at the Wigan campus in 2019. In the first year, he brought together 13 students. There are two more this year.
Apples, onions and lessons
Melody Carpentier is not on campus that Thursday. After picking the sweet onion, he continued to eat. This young 20-year-old woman, who is also engaged in housework, is waiting for a place in kindergarten for her children. She juggles studies, babies and odd jobs. " It's a lot of work, but it can definitely be done. I have no reason to complain ", she leaves. She was pregnant when she obtained her bachelor's degree with honors at the Cévennes Lycée du Vigan.
"If there was no closed campus, I would not be able to get a higher education"
It was her social worker who referred her to the closed campus. " Otherwise I wouldn't be able to go to university ", he admits. He chooses the AES license from the University of Cévennes Besançon: " Only he allowed her to take the exam on campus under the supervision of a tutor. I changed diapers between the two tests. Melody will be completing her final year of undergraduate studies on campus. Then he finished his education. He says he has an employer ready to hire him as soon as he graduates.
Attendance Agreement with Campus
Upon entering campus, students sign a contract and agree to come whenever they want for at least 12 hours a week. Fresh graduates without a job on the side should be at 6 p.m. Every time a student goes to campus, he signs an attendance sheet. He must report his absence. If he gives up and forgets to come more and more, an interview with the tutors is arranged after a month. CV, stress management with sophrology… Students must commit to attending at least five group workshops out of the 32 groups offered this year.
Manon Chalvidan, 23, with long brown hair and hoop earrings, is a regular on the closed campus. Since 2019, he has been driving every day from the village of Mars, a 10-minute drive from Wigan. Manon previously worked for three years at the Paul-Valery University in Montpellier. Despite his scholarship, he had to juggle jobs: animation at schools during the week and work at a Vigan supermarket on weekends. As such, he was able to secure a two-year "educational sciences" license. Third, a change of direction: it returns to Wigan on a closed campus. He climbed the ladder: license, master with the University of Cergy-Pontoise 1. He even agrees to an eight-week internship at the schools of the Academy of Versailles. For Master 2, he chooses Rhodes face to face. He's leaving in two days." excessive pressure in the competition. So he returned with a huge set on the closed campus to watch BTS's "management activity support".
Stay social
This Thursday, the blackboard still bears traces of the crash course in economics given to him by Rachid Mdaam. With a master's degree in STAPS (sports) and sociology, he doesn't hesitate to open up concepts that students stumble upon. On Tuesday evenings from 5 to 6 p.m., it even hosts a tailored exercise class for volunteer students to combat the effects of a sedentary lifestyle. Graduates of the closed campus are invited. " We are well supported. This campus allows you to make social connections. 180 people live in my village. I am the only one in my age group », Knows, has fun, Manon.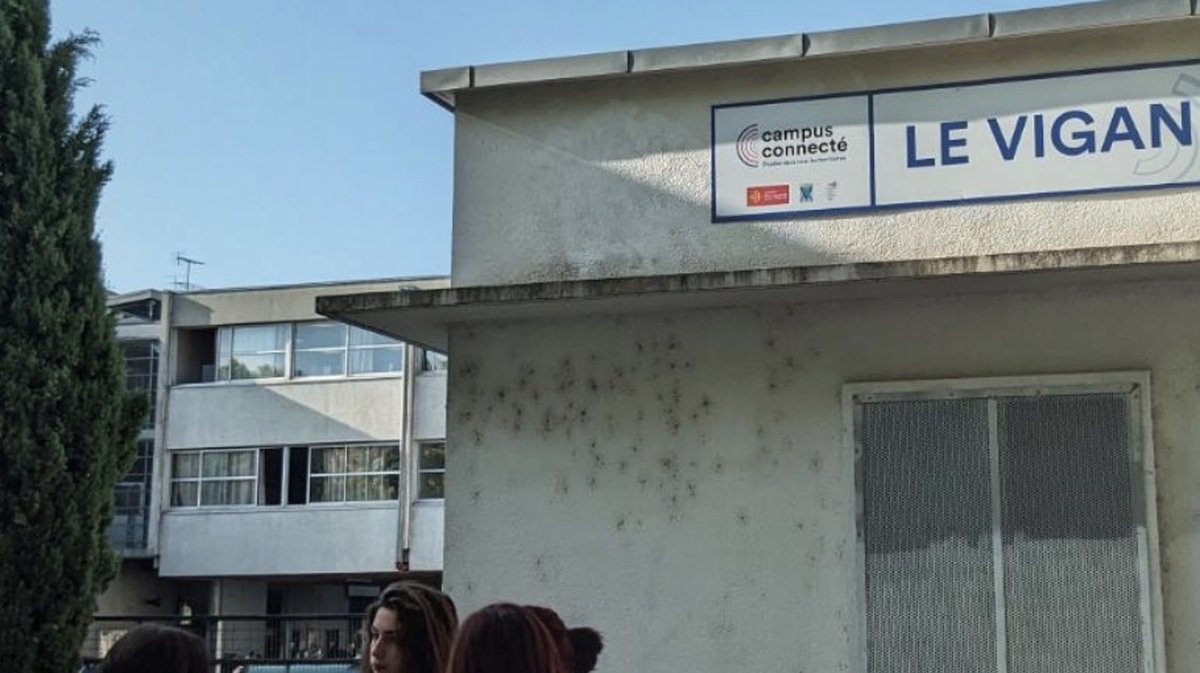 His neighbor Romain Berthézène, behind the table with headphones plugged into his ears, periodically picks up a PDF spinning on his computer to exchange with him. This 19-year-old is from Molière-Cavailhac. His grandmother takes him to school in the morning at the same time as his sister. " I had a professional reception here. On campus, I went directly to the BTS. He admits with a smile: " My family consists mainly of climbers, woodcutters and hunters. I didn't want to go to the city and find myself in the middle of everyone, oppressed ".
Four out of 15 students enrolled in the campus study at the university. Others are in BTS. General knowledge courses are essentially the same from one sector to another. " We can help each other. Last year, we did four or five economic and management culture, the boy adds. When we are at home, we tend to get distracted. »
Coffee, cakes and tunes
The combined campus occupied three rooms on the first floor of the André-Chamson school complex. In the former two classrooms, 20 computers connected to headphones are installed. Even with a school yard opposite, everything has been done to create a comfortable atmosphere. The red lino has been replaced with an imitation parquet floor. Indian blue covered the doors and some of the ceiling tiles. Gray armchairs and a yellow couch sit next to the microwave in the lounge. On the wall, Shaun Wigan, the sheep, observes a poster about the passage of the Tour de France. The chess game stops. " Coffee, tea, cakes are free. They make us a small list and we supply them, Rachid points out. We also have nine computers that we can give away for the year. There are only virulent music tunes reminding us every hour that we are in high school.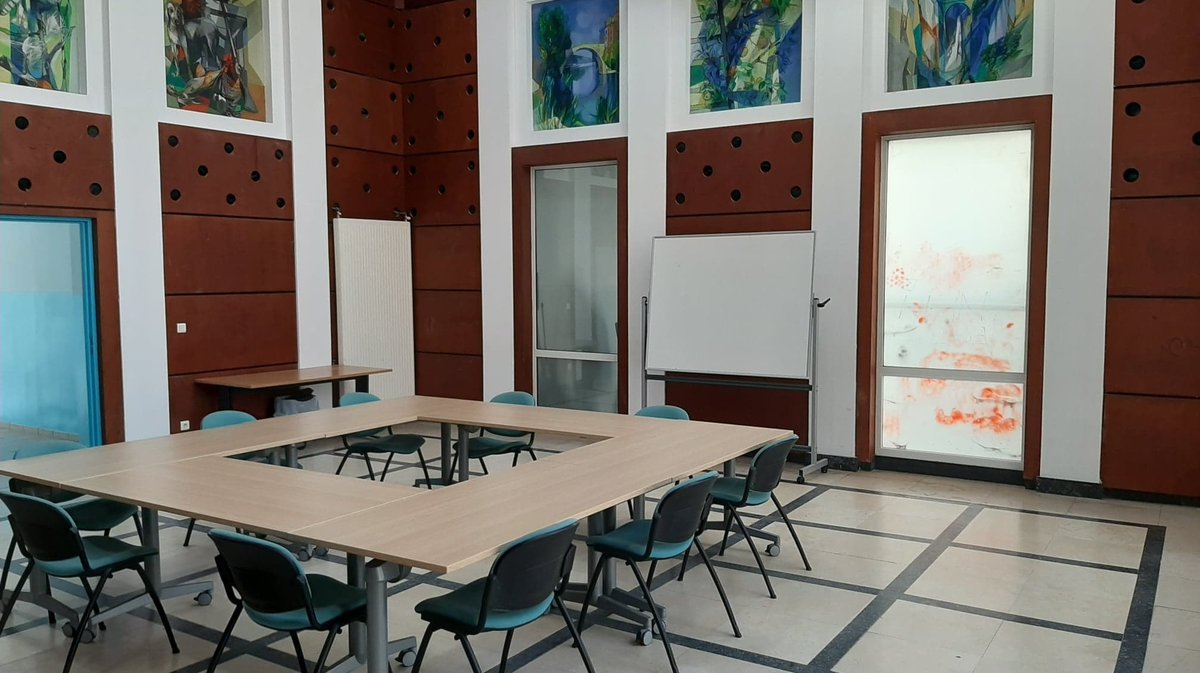 Students could eat in the school cafeteria. Obviously, this does not tempt them. " When I was 29, I signed up for a connected campus because I couldn't see myself in a classroom with 20-year-olds. Anahita starts laughing. Dressed in a dress, boots and a black beret, this young French-Iranian woman is a graduate of an art school in Belgium. His project: creating a botanic and artistic garden hosting festivals, environmental awareness… He worked in Tarn and enrolled remotely in the BTS "nature management and conservation" section offered by Sup agro Dijon. He studied alone at home. During a face-to-face meeting, another student talks about the campus he's connected to. Anahita packs her bags: On campus, you manage your schedule the way you want. It's great. »
Really join the university
As of 2019, about fifty students have been there. 5% dropped out of school. About 70% passed the exams successfully. The campus should act as a springboard for face-to-face higher education. Chaima made it. After obtaining a BTS on campus, he dropped out of the third year of his undergraduate degree in Montpellier. " The first year was difficult. It took him two years to confirm this. He now works for Société Générale in Ganges "Rachid Mdaam says.
The combined campus Nîmes collaborates with Unimes University so that students gradually get to know the "real" university world. Campus students access the university library and attend Unimes highlights. Two students from the campus's current promotion want to integrate a face-to-face master's degree in psychology at the city-prefecture next year.
For some, this will be mission impossible. A boy who lives an hour and a half from Wigan travels twice a week with his parents to come to campus. " He suffers from autism. He enrolled in a master's degree in art history at the University of Lille, says Jana Boivin, another tutor at the affiliated campus. He started his studies at home alone. He has been coming here since last year. There it is in a protected environment. He is the one who stayed the longest at our end of the year party. »
This article is from Objectif Gard magazine, issue 52 dated October 28, 2022. You can find it exactly by clicking on the front page:
Sabrina Ranvier