Attention, new rule: Elon Musk bans location sharing on Twitter
To justify the suspension of an account that shared the real-time travel history of his private jet, Elon Musk announced a change in Twitter rules. The location of an individual or object can be stopped from being posted on Twitter under the name of "personal safety". Who said "censorship"?
Can we make up rules on a whim several times a day, claiming to be the biggest defenders of free speech and convinced that censorship is destroying society? Elon Musk is a man full of contradictions.
After months of campaigning and advocating for the most radical positions in society, Elon Musk suddenly decided to ban the sharing of an individual's real-time location on Twitter. "limit the risk of violence". The problem is that this definition is broad. If the accounts that share the location of the plane are the first target of Elon Musk, then any picture of the celebrity can be interpreted as violating the rules of the social network because they personally annoy him.
Paradoxically, the "social network of free speech" is the only one to outright prohibit these practices, but it is banal and often legal. Added to this is the issue of moderation, which Elon Musk usually does not like. In short, Elon Musk once again put himself in hell…
It is not illegal to share a plane's location
Everything is Elon Musk's on December 14 after promising not to touch the accounts ElonJets, run by developer Jack Sweeney, who has been tracking his private jet in the name of free speech, has abruptly suspended his account. Shockingly, Twitter told him he was violating their terms of use. ElonJets does nothing but share publicly available screenshots of Elon Musk's flight routes. Since all flights can be tracked in real time, no one is spared. The ID of Elon Musk's private plane is known (N628TS) and enter this code into a phone. flight tracker it is enough to get information about his live location. ElonJets don't break any laws, even though Elon Musk always hated it.
Obviously, the media took over (it must be said that Elon Musk tried to close this account long before he wanted to buy Twitter). The billionaire was forced to react to this case and suddenly announced the famous change that he decided to implement in the rules of Twitter: " Any account with real-time location information will be suspended as a physical security breach. »
Elon Musk added that accounts sharing offline space is not a problem for him. The ElonJet account was later reactivated… before being closed again.
Twitter censors links to external sites
Since then, the censorship of accounts sharing the location of a plane has gone even further. As some may have thought, it is not possible to tweet the link to the ElonJet account's Instagram and Facebook pages. On the other hand, you can easily share a link to Flightradar24, one of the most popular sites for live aircraft tracking. So the exile is well-targeted (but to clean itself up, Twitter has also deleted accounts after other jets, such as Jeff Bezos).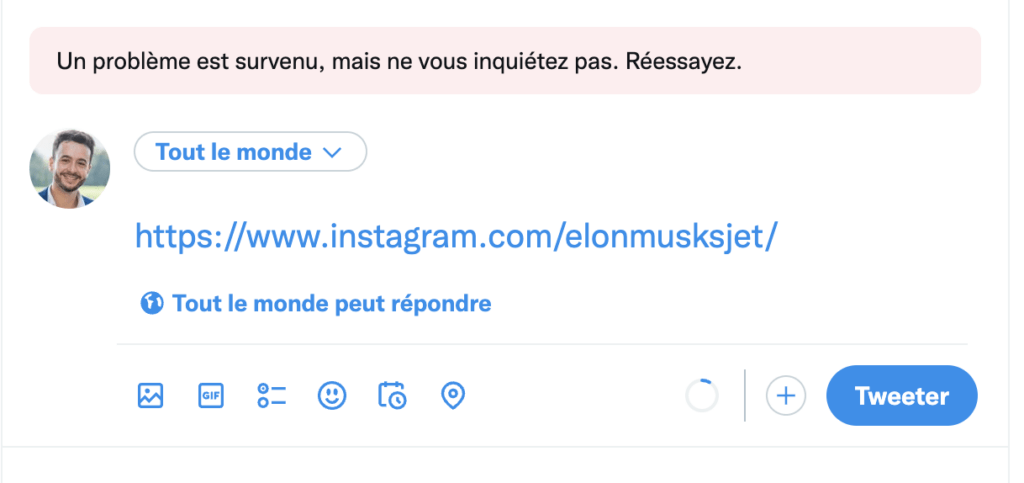 Twitter has confirmed this policy change on its security account. Tweets that convey the person's information will be deleted, and accounts dedicated to the practice will be suspended. A funny way to exercise absolute freedom of expression, because sharing someone's seat isn't limited to private jet owners.
Why did Elon Musk do it? In a series of tweets, the billionaire explains that his son was recently followed by a stranger in a car. He blames it on accounts like Jack Sweeney for facilitating stalking (the act of following someone against their will).
Then Elon Musk had an amazing idea: broadcast the video of the stalker in question to his 120 million subscribers to start a massive search. An experience he probably considered less dangerous than sharing a plane's place in the sky. If he doesn't understand the contradiction?
Does Elon Musk have the right to change the rules this way? If there's nothing legally justifying his decision, he's technically doing whatever he wants because he owns Twitter. However, tracking the plane will still be available on all other platforms around the world. You know, the stuff Elon Musk accused of censorship.