Samsung Galaxy S22 Ultra benefits from an absolutely irresistible offer (-360 €)
If you've been waiting for a significant price drop to get your hands on the Samsung Galaxy S22 Ultra, your patience has just been rewarded. The South Korean giant's ultra-high-end smartphone is currently on sale at Fnac, Darty and Boulanger for €899 instead of €1,259.
Folding smartphones aside, the Galaxy S22 Ultra is the best from Samsung right now. It's beautiful, powerful, good photography, has one of the best screens on the market, charges faster than before, and even includes a stylus. Today, thanks to this offer, it is an excellent ally for productivity, which has seen its price drop by more than 350 euros.
Samsung Galaxy S22 Ultra essentials
6.8-inch AMOLED display (QHD and 120 Hz)
Improved fast charging: 45W
Still a great camera
High power of Exynos 2100
The 128GB Samsung Galaxy S22 Ultra, which was originally listed at €1,259 but now at €1,199, is now on sale at Fnac, Darty and Boulanger for €1,149. However, if you factor in the €100 buyback offer and the €150 ODR valid until August 31st, This ultra-premium smartphone costs you only 899 euros at various electronic stores.
---
If the offer mentioned in this article is no longer available, take a look below to find other promotions for the Samsung Galaxy S22 Ultra. The table is updated automatically.
Where to buy

Samsung Galaxy S22 Ultra at the best price?
Samsung Galaxy S22 Ultra
Get this smartphone at a discount with trade-in
Even more "stulus" than before
The S21 Ultra's design was classy and sleek, but this successor simply perfects the predecessor's recipe. Indeed, we can only applaud one level, the overall comfort and impeccable sturdiness. The inclusion of the photo module now in the housing really adds a more sober and elegant look than before. Additionally, it's worth noting that the Samsung Galaxy S22 Ultra now includes an S Pen to replace the Note range that its predecessor was only compatible with. The good news is that this is done in a smart way, unlike the Z Fold 3, as the smartphone offers a port to hold the stylus directly. The latter has incredible sensitivity with even a small haptic feedback as a bonus when touching the screen.
The Samsung panel is obviously of excellent quality. Nothing is missing, especially with brightness on top, a colorimetric scope to die for, and a near-perfect calibration. In addition, it should be noted that the diagonal extends to 6.8 inches, the maximum resolution is 3080 x 1440 pixels, and the refresh rate is adjusted between 10 and 120 Hz. try it, but note that an update has since fixed the issue.
It's a great camera
Samsung has never disappointed on the photography side, so the S22 Ultra is certainly very good in this area. It may not be as accurate as the iPhone when it comes to faithfully capturing reality, but thanks to its volley of sensors, it blows away all the competition when it comes to judging the phone's versatility in photography. The 108-megapixel sensor is still just as effective in many situations, the X3 and X10 optical zooms are very clean, and a few software additions (improved night mode, stabilization, etc.) reinforce the extremely positive overall impression. We'd certainly appreciate a bigger gap between this latest smartphone and the S21 Ultra, but when it comes to perfection, we won't argue.
Finally, fast charging on Samsung
Power is clearly there under the hood with the Galaxy S22 Ultra, Exynos 2100 chip and 8GB of RAM. Therefore, it easily fulfills all the needs you might have for a phone in 2022, such as using a modern software interface without slowdowns while browsing the web, playing HD videos, even when several applications are running. background. However, it must be admitted that in the video game part, the South Korean premium smartphone lags behind Qualcomm's Snapdragon 8 Gen 1 with poor thermal management.
However, what we appreciate is the improvement of the fast charging system, which ranges from 25 to 45 W, which allows you to go from 0 to 100% in 1 hour. Obviously, it's not at the current level of competition, but the progress is worth noting. The 5,000 mAh battery will last you a day, but not much more.
To learn more, don't hesitate to read our full test on the Samsung Galaxy S22 Ultra.
7 /10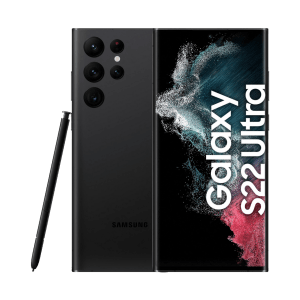 Which premium smartphone should you choose?
To compare the Samsung Galaxy S22 Ultra with what the competition has to offer in the high-end segment, we invite you to consult our guide to the best premium smartphones in 2022.
---
We invite you to download our Android and iOS apps to follow us. You can read our articles, files and watch our latest YouTube videos.