CHAMP | Michaël Llodra, from tennis courts to cellars
We all know the grace of his serve and volleys on the tennis court. But Michael Llodra is a man of many hats. A former world number one stunt double, a lover of wine, he is now a skilled entrepreneur living his passion. It was in Bordeaux that he developed his own wine club, with special service.
Michael Llodra in the second grade, he decides to stop his studies with his father and devote himself fully to his passion: tennis. Sponsors quickly Nike, helping him to travel around the world during tournaments, the young tennis player rises to the top 100 in the world. Ranked No. 20 in singles and primarily No. 1 in doubles, she has won no less than 28 titles in that major, including three Grand Slams, one silver medal and the Masters in doubles. A wonderful career that would last fifteen years.
An old passion
When you hang the rocket, Michael Llodra will continue to live with his passion. More tennis, but wine. His interest peaked at the age of 23, when he started on the ATP circuit. The love of wine passed on by his coach at the time grew to such an extent that when he traveled to the end of the world for the Australian Open, he took with him a whole suitcase of magazines on terroirs, grape varieties or history. wine again. "I spent four to five hours a day documenting myself in the world of wine. It's a passion that has never left me," explains the champion, who during his sporting career met winemakers in Bordeaux and Burgundy in their fields. He sets off to discover wines, and through wonderful encounters and tastings, the desire to enter the profession emerges.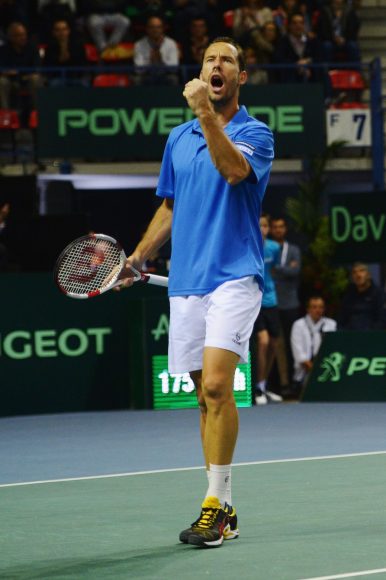 In 2012, he opened with Arnaud Clement, his double partner, a wine bar in Dijon. A case that will last three years. When Michael Llodra Ending his career in 2015, he moved to Bordeaux, where he opened Secret Cellar, a custom-made table in his basement. The idea: a cuisine based on a food-wine couple taking care of their spouse Camille, is passionate about cooking with a selection of over 12,000 bottles. Started wine distribution in 2019, River Mikawith his partner Christophe Jacquemin-Sablon. He builds custom-made cellars for wine lovers. "I build cellars by listening to the customer, the idea is to offer them a range of wines selected by me. The purpose of this club is also to meet winemakers together around a tasting or dinner. Success is connected with the Olympic medalist, because today it unites more than 120 carefully selected members. In addition to organizing cellars for individuals, it represents prestigious estates by placing their wines in the best establishments in the Nouvelle Aquitaine region. "The adventure got off to a slow start two years ago. When we speak of a passion that lives within us, people feel it and trust us. »
in 2020 River Mika While continuing his club, Bordeaux opens a shop in the city center. The three-year-old company employs six people with a turnover of 2.8 million euros. A profitable business, its founders are not rewarded for the first two years. "I wanted to capitalize on the company and create a large stock of bottles. I am careful with the weather, because if there is no production tomorrow, I have no wine. I always have to keep offering wine to my customers. »
Charity actions
Today, Michael Llodra is a happy and happy person. club River Mika it makes him happy and he has no intention of changing it. If his Bordeaux store does well, he has no plans to franchise it at this time. "You have to take your time. Today, I have properties that trust me and I don't want to cut corners. I prefer to continue doing well because I offer a tailored service. Meeting the demands of demanding customers is what drives the former tennis player. Some winemakers even create their own cuvee. "It's a real sign of trust in my clients and a real pride to represent the domains that trust me. »
voluntary, Michael Llodra he does not count his hours and always remains a suggestion force when discussing various strategies of the company. It's the toughness and tenacity he's undoubtedly inherited from his career as a professional athlete. But if he was alone on the tennis court, he plays collectively through his company and association. A different approach that requires a lot of responsibility. Every year it organizes mica problem. A mix of sports and wine, two of his passions, whose aim is to live a weekend among wine lovers, vintners who come to taste their best food, and athletes who come to share their experiences, which he organizes in his cellar.
the role of Michael Llodra it doesn't stop there, because he also wears his charity hat through Sport a du cœur, an association created by former athletes like him that helps athletes in dangerous situations. It creates events with special auctions where many athletes are asked to donate their jerseys or accessories to the association. Last year, the association collected more than 250,000 euros Mica Challenge thank you among other things Zinedine Zidaneon skis Martin Fourcadein his helmet Tessa Worley or even by form Roger Federer. This is very important for the associative aspect Michael Llodra, a pursuit with an obsession: "Give to others what sport has given to me. »
<< Həmçinin oxuyun: D-Vine, şərab texnologiyasında dünya lideri olmaq üçün əlaqəli sommelier ilə beynəlxalq səviyyədə qurulur >>>