How can I post to Twitter and Mastodon at the same time?
Will Twitter explode? Is Mastodon worth it? Can't decide between two social networks? You can always send your messages on both platforms at the same time. There are tools for that.
Will Twitter still exist tomorrow? This question seemed unthinkable a few weeks ago. But today, the social network is experiencing an unprecedented crisis, mainly caused by the arrival of Elon Musk as CEO. Since the end of October 2022, the American billionaire has deeply destabilized the organization of the group. Today, Twitter appears to be in danger.
In these conditions, the desire to escape from a large aviary is great. Some are already restoring their archives on Twitter. Some moved to Mastodon hoping to find peace and stability. But giving up on Twitter isn't always easy, especially since the platform isn't (yet) on the ground.
The solution to this dilemma – leave or stay? — May include using a tool that allows you to post to Mastodon and Twitter simultaneously. By doing so, you can ensure your presence on both platforms and prepare for a smooth transition to Mastodon if Twitter goes away. Your recent messages will be sent to Mastodon.
Posting the same message on Twitter and Mastodon
To post the same message on both platforms — cross poster, in jargon – of course you must have an account in each of them. You must additionally select the instance of Mastodon you wish to land. If this is already the case, the next step is to go through third-party services that will connect your two profiles.
Two tools are regularly referenced on Reddit: Mastodon Twitter Crossposter and Moa.Party. The first is in French and the second in English. The interface varies in both cases, but the idea is similar: you need to allow reading and writing from the first or second service, as well as certain other actions.
Important: Be careful how you fill in your Mastodon name on the Moa.Party or Mastodon Twitter Crossposter. It should be given in the exact form, ie [email protected]_instance and not vice versa (you need to fill in the instance as well, because the service is decentralized).
Warning: from a strict security point of view, you should know that these services have partial access to your accounts. This does not necessarily mean that their malicious actions will occur, but it is a risk that should be considered. If one of these services is hacked, for example, it could allow an attacker to send information to your accounts.
Note that you can revoke access to your Twitter and Mastodon accounts at any time. You can do this directly on the Mastodon Twitter Crossposter and Moa.Party, but also from the Twitter settings, " Connected apps ". On this occasion, you can check and clean whether other programs are connected to your account.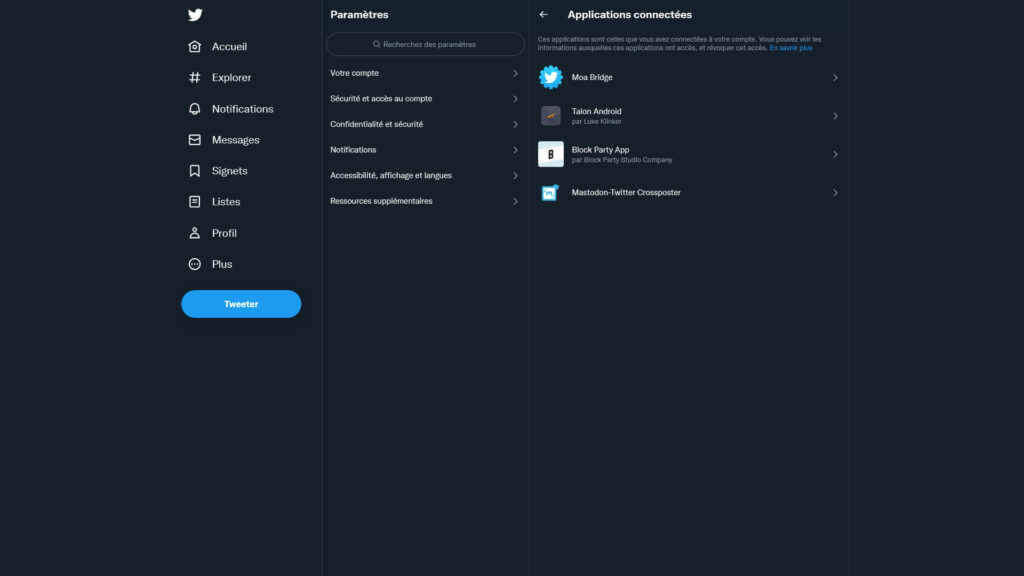 Third-party apps with access to your Twitter (or Mastodon) account aren't necessarily a bad thing. It's convenient to use a third-party client instead of the official app (like the Talon Android app). If you want to use a service to support you (eg Block Pary App) to filter your records.
After connecting your two accounts with the third-party service of your choice, make sure you have the correct settings. Moa.Party's default ones might be fine, but in the case of the Mastodon Twitter Crossposter, you'll need to adjust a few settings. In Mediapart, the user displays the correct settings for moll touch.
Then all you have to do is post whatever comes to your mind using Mastodon or Twitter.
However, it should be noted that as of November 18, the operation may seem like a mistake to you: the situation on the Twitter side is not reassuring, leaving a large number of employees, including critical departments. There is a possibility that the social network will fail or crash. On the Mastodon side, according to authorities, flow of people it can also trouble the servers.
In our case, we saw noticeable slowdowns on the main Mastodon instance (mastodon.social) with our test post. For a while we thought it wasn't going to work, but he still made it through. According to the timestamp, the message posted on Twitter arrived on Mastodon one minute later.